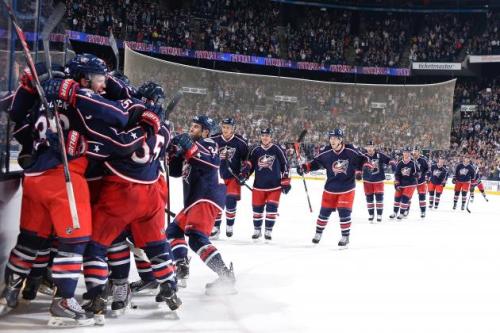 About last year…
The Jackets were a surprising wild card team, notching 93 points and giving the heavily-favored Pittsburgh Penguins a scare in the opening round of the playoffs. Few expected them to even get that far, but the promising showing has made them favorites to go deeper in 2014/15.
The team was buoyed offensively by a breakout year from 22-year-old center Ryan Johansen, who lit the lamp a career-best 33 times and led the team with 63 points. He appears poised to become the team's first superstar in the post-Rick Nash era, provided he can come to terms on a new deal (more on that later).
Just as important as Johansen was goaltender Sergei Bobrovsky. Coming off a lockout-shortened 2012/13 season that saw him win the Vezina Trophy, Bobrovsky was almost as good. His 32-20-5 record was impressive, as were his .923 save percentage, 2.38 goals against average and five shutouts.
The team established itself as a hard-working, nose-to-the-grindstone team that isn't flashy or full of superstars, but works hard and plays the edgier game. Sidney Crosby can attest to just how difficult it is to play against this incarnation of the Jackets as they held him goalless in the playoffs last year.
The Off-season
Key acquisitions: Scott Hartnell, Jerry D'Amigo, Simon Hjalmarsson, Brian Gibbons
Key departures: R.J. Umberger, Nikita Nikitin, Nick Schultz, Derek MacKenzie, Blake Comeau, Jack Skille, Matt Frattin
If you ignore the ugly, ugly standoff between Johansen and the front office over a new contract – and it's hard to ignore given team president John Davidson's clearly aggravated comments – it's been a quietly solid offseason for the Blue Jackets.
They took R.J. Umberger, a guy with a bad contract and even worse possession numbers who demanded a trade out of town, and actually improved on him, landing Scott Hartnell from the Philadelphia Flyers. He's a better player on a similar deal that should make the Blue Jackets better and could work splendidly with Johansen provided he doesn't hold out.
General Manager Jarmo Kekalainen avoided overspending on overrated free agents (both internally and externally *cough*Nikita Nikitin*cough*) and kept the core of the team as is. He'll have a few exciting prospects making their debut and is banking on a step up from the young core to not only get them back into the playoffs, but make a deeper run this season.
This Season
Biggest strength: The Jackets are both big and deep as a forward group. As said up top, they aren't the flashiest or the most talented, but they've established themselves as a tough team that can skate with anyone. They'll grind you to dust and beat you 2-1 every night if they have to.
This all starts in the middle, with an impressive trio of centers in terms of skill, size and grit: Johansen (6'3") is the team's burgeoning superstar, Brandon Dubinsky (6'2") is one of the leaders both on and off the ice, and Artem Anisimov (6'4") is the solid two-way center who is always capable of much more than he's been doing. Couple that with big-bodied wingers in Hartnell, Nick Foligno and Boone Jenner (and Nathan Horton if he can stop getting injured) and this is a tough, tough team to battle for 60 minutes.
Slight but talented Matt Calvert and Cam Atkinson bring the skill and speed while top prospects Alexander Wennberg and Kerby Rychel could make their impact on Ohio's capital this fall. A deep group (provided Johansen is in the fold) that is going to be a handful to face every night.
Biggest weakness: While the Jackets' defense is teeming with puck-movers, there are still questions about whether or not they can actually, ya know, play defense. On paper, they don't seem that bad but part of that is due to the presence of Bobrovsky, a standout in net the last two seasons. They've also put Jack Johnson in a role that maybe he isn't suited for. He played 24 minutes a game last year and wound up with a team-worst minus-7. He's a quality defender, but might not be best suited for that "shutdown" role.
The team is also going to be depending on three fresh faces – David Savard, Tim Erixon and Dalton Prout – to fill out the bottom pairing. The top four, though, has the potential to be very good if James Wisniewski, a bonified offensive stud, can stay healthy. Ryan Murray is already living up to the hype that made him the second overall pick in 2012 and Fedor Tyutin has been the quality, quiet defenseman every team could use.
Provided injuries or youthful growing pains don't become huge issues, this could develop into a strength before long.
Biggest Story: Aside from the Johansen contract negotiations, the one storyline to watch will be whether or not the Jackets can take the next step forward. Last year was the first time the team made the playoffs since 2009 and they collected the only two playoff wins in franchise history.
Yes, the team needs Johansen back in the fold if they want to actually make some noise in the playoffs and they'd love to have a healthy Horton back to make their lineup even more formidable, but this is a deep team with young talent on the way and they're ready to burst through the door.
With Johansen, a potentially elite #1 center, and Murray, a burgeoning potential #1 defenseman, the Jackets have two major pieces in place to be a contender. Big years from both, as well as another fantastic year out of The #1 Cop On The Force (Bobrovsky) would go a long way towards making the Blue Jackets a team to legitimately fear.
Predictions
Expect the Johansen stalemate to end early in the regular season, with the young pivot shaking off the rust as he goes. This still isn't a team that's good enough to win the Metropolitan Division with teams like Pittsburgh and the New York Rangers in the mix, but they might already be better than the Flyers and should finish third in the division, grabbing one of the guaranteed top-six playoff spots.
From there? Look out, Eastern Conference.
Follow me on Twitter: @TwoPadStackRW