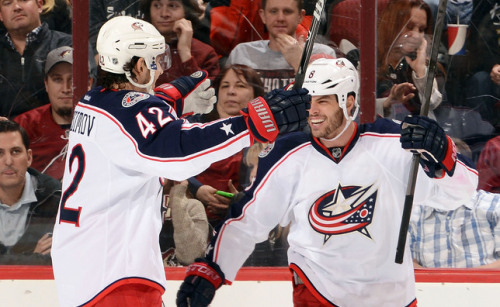 With the 2014/15 season on the horizon, there are a few burning questions about the Columbus Blue Jackets that must be answered.
How will Ryan Johansen impact this season?
If he had a new contract, this would be much easier to answer. Alas, we're a week before the start of the season and the potential franchise center doesn't have a new deal. More than that, the two sides seem as far apart as ever.
That leaves us to wonder if Johansen will have any impact at all on the ice this season. It's hard to believe that Johansen would miss a whole season of paychecks, but if his side believes strongly enough that he deserves the huge raise he's asking for, sitting out is his only power play. Hurting the Jackets on the ice with his absence might be the biggest chip he can play. If he were to do that, it would hurt the Blue Jackets tremendously.
If he does make it to the ice, it's hard to think he'll be the same right out of the gate. He's already behind the eight-ball having missed camp and the preseason; if he misses any games on top of that, it'll just add to his rust. Eventually, though, he'll need to build on last season's 30-goal effort and help carry the Jackets to a higher place. He's got all the tools to be an elite center in the NHL and he showed a glimpse of that last season.
Either way, this season could hang on Johansen and what he does (or doesn't do) on the ice.
Is Bobrovsky ready to step back into the Vezina picture?
While he didn't have the same Vezina-caliber season last year that he had in 2012/13, Bobrovsky is still one of the better goalies in the game and a centerpiece of the Blue Jackets franchise. His numbers were still solid last year (32-20-5, 2.38, .923) and they could take a leap back into the stratosphere this year. Why? Well, it's simple: he's playing for a new contract.
His Vezina season earned him a bridge deal; a two-year deal paying him $5.625 million per season. If he can return back to that level this season, helping lead the Blue Jackets to an extended playoff run for the first time in franchise history, he could earn himself something around the Tuukka Rask range – eight-years, $56 million – or possibly more.
This is a big year for the Jackets as a whole, but for Bobrovsky, there's about 60 million reasons for him to be on top of his game this season.
Can Nathan Horton have an impact?
For the immediate future, the answer is "no". Horton is currently dealing with a degenerative back issue that will sideline him indefinitely. Coming off his first year in Columbus, where he recovered from shoulder surgery only to suffer a season-ending abdominal injury, it's got to be infinitely frustrating for Horton.
That said, it's not totally bleak. The Jackets already know what they're capable of with no Horton in the lineup, having made the playoffs last year, so as long as this issue doesn't keep him out the entire year he could still have a huge impact down the stretch run and into the playoffs.
Adding a big, physical winger with goal-scoring ability to a lineup like this that late in the season could give the Jackets the push they need come playoff time. Either way, they'll be that much more difficult to play come spring time.
Can Ryan Murray take "the leap"?
The 20-year-old defenseman, the second overall pick in the 2012 NHL Draft, made his debut last year. Murray was hyped more for his skating and offensive abilities, but became a solid defenseman for a team that badly needed a solid defenseman.
He's already showing the poise of a 10-year veteran, rarely looking rattled and always making the smart play. With health questions always looming behind James Wisniewski and about Jack Johnson's ability to be a quality defensive defenseman, the Jackets will become reliant on Murray and his ability to play the shutdown defender. If he can take the next step forward in 2014/15, locking down some of the best the opposition has to offer, as well as taking a step forward in his offensive contributions, Murray could join the conversation as one of the better defensemen in the league.
He's been compared to Ryan Suter, now it's time to turn that potential into production.
Follow me on Twitter: @TwoPadStackRW