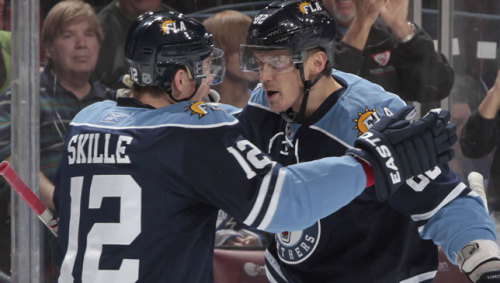 With all of the negative momentum going on in the offseason, the Columbus Blue Jackets could use something, anything in the positive column.
Sure, the signing of Jack Skille might not result in streamers and party hats, but in an offseason like this – where Ryan Johansen is in the middle of a bitter, nasty contract negotiation with the team and center Boone Jenner out for the immediate future with a broken wrist – but it's something and something is all the Blue Jackets faithful need right now.
Skille, who signed a one-year, $750,000 deal with the New York Islanders in the offseason, actually spent 16 games with Columbus last year, plus all six playoff games. After camp, he was exposed to waivers by the Islanders and the plan backfired when the Jackets scooped him up.
His addition leads to a few interesting questions: does this mean Brian Gibbons will start the season in Springfield? What about Corey Tropp and Kerby Rychel? Could this mean they didn't make it to the opening night roster? Unfortunately, we'll have to wait until Thursday to find out for sure.
Skille played all over the roster last year, including a short stint with Johansen and Jenner, so he'll likely start on the fourth line and move up as he's asked. With all of the injury issues – Horton is also out with a degenerative back issue – Skille temporarily stops the bleeding, but one has to wonder if GM Jarmo Kekalainen will show more urgency in getting Johansen back in the fold.
Follow me on Twitter: @TwoPadStackRW