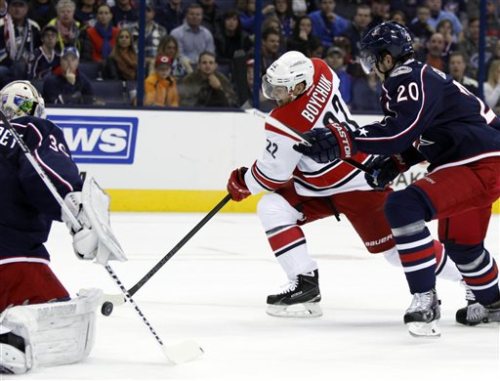 Who: Carolina Hurricanes
Where: PNC Arena, Raleigh, NC
When: 7:00PM
Know thine enemy: Despite winning against the Jackets on Tuesday (more on that below), the Hurricanes are still an unequivocal mess. Leading scorer Jiri Tlusty was knocked out of Tuesday's game by an illegal check from Blue Jackets defenseman Jack Johnson and is under concussion protocol. He'll be a game-time decision.
After them, it's a fleet of fresh faces leading the Hurricanes. Riley Nash, Chris Terry and Elias Lindholm are right on the heels of Tlusty for the team scoring lead and Terry's four goals are just two behind Tlusty's team-leading six. Still, the Hurricanes struggle to generate offense on the whole and that no doubt has to do partially with injuries (Jeff Skinner and Jordan Staal are out; Eric Staal has already missed time) but with massive disappointments (Alex Semin was a healthy scratch for two games before returning on Tuesday). It'll likely continue to be a struggle as the year goes on, but the weapons are potentially there.
In net, Cam Ward will get his fourth straight start and he's been hot. He's won his last three starts, giving the team their first three wins of the season after an 0-6-2 start. Ward is one of those goalies that is more than capable of playing on his head for stretches at a time, so facing a hot Ward should be a concern for the very thin Jackets.
About the Blue Jackets: The skid in Columbus continues. Since starting the year 3-2-0, they've since gone 1-6-0 and will now be down the aforementioned Johnson in addition to the slew of injuries that have befallen them so far. Sure, they'll get James Wisniewski back, after getting Boone Jenner and Matt Calvert back on Tuesday, but Ryan Murray heads back to the injured reserve with a knee injury. Even when some folks start to get healthy, others replace them on the injured list.
Offensively, it's still a three-man show with Ryan Johansen, Nick Foligno and Scott Hartnell leading the way. After that, there's a sizable drop off and the Jackets need to find a remedy for that quickly. If the slide continues much longer, it may be too much for them to overcome as the season progresses.
Of course, not having to start a career backup and a young AHL goaltender would help that cause, but until Sergei Bobrovsky returns from his finger injury, it'll all be on the shoulders of Curtis McElhinney and Alex Forsberg respectively.
The last time these two played: A slow start again plagued the Jackets. The Hurricanes jumped out to a 2-0 lead late in the first period and a shorthander by Justin Falk early in the second appeared to put things out of reach for the struggling Jackets.
Matter of fact, if it weren't for the efforts of Foligno (two goals), it wouldn't have been nearly as close as it was before Staal's empty-netter sealed it with :12 left.
Ward was sturdy, though he didn't have much action on the night, facing just 19 shots. The Jackets will need to turn in a much better performance than that if they hope to get out of the skids and back into the win column.
The part where I predict things: It's an epic struggle for Columbus right now and even when relief arrives, it's instantly taken away in the form of new injuries. Having Jenner, Calvert and Wisniewski back in the lineup should bolster the offense, but the back end is a total mess going all the way back into the nets.
Whoever gets the start tonight will be a clear step down from Bobrovsky and the depleted Jackets will suffer another stinging, late loss.
Score: 4-3 Hurricanes
Follow me on Twitter: @2PSBlog
Love Reading About Hockey?

Subscribe to keep up-to-date with the latest and most interesting hockey news!
| | |
| --- | --- |
| | We hate spam just as much as you |