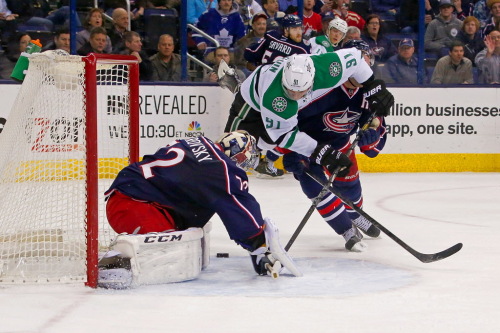 Who: Dallas Stars
Where: Nationwide Arena, Columbus, OH
When: 7:00PM
Know thine enemy: For a team boasting a lot of firepower on paper, the Stars have come out struggling to score this season. Managing a pair against Cup favorites in the Chicago Blackhawks isn't terribly alarming, but dropping a 4-1 decision to the Nashville Predators might be.
Even more alarming is the fact that Jamie Benn, Tyler Seguin and Valeri Nichushkin, all expected to contribute heavily this season, have yet to post a point between them. That likely won't last, as the tandem of Benn and Seguin is one of the best the league has to offer and it is likely just a matter of time before they find their stride. Nichushkin, meanwhile, left practice on Monday with a groin/hip pointer and there's a chance he won't play at all tonight.
In goal, it looks like Kari Lehtonen will get the nod. He was solid against the Blackhawks, allowing two goals in regulation and overtime before ceding the win in the shootout. He's been very good over his career and will likely be the x-factor tonight for the Stars. If he plays well, they'll have a chance to win regardless of what the rest of the team is doing.
About the Blue Jackets: Surprisingly, the Blue Jackets have come out of the gates flying and you'd almost never know that they're missing half of their lineup. They dealt with the lowly Sabres in the opener back on Thursday, controlling the possession game before finally pulling away late in the contest.
On Saturday, they came out flying against the defending Eastern Conference champion New York Rangers, getting a pair in the first and never looking back on their way to a 5-2 win. Perhaps the most notable thing is the way Cam Atkinson has stepped up. He has three goals in two games and continues to look like he's on the verge of breaking out. Ryan Johansen, still working his way into shape, has three assists so far and both Nick Foligno and Scott Hartnell continue to play invaluable roles.
Also worth noting is the play of netminder Sergei Bobrovsky. "Bob" has been sterling through the first two games, winning both and posting a .938 save percentage to go with his 1.50 GAA. If the Jackets are going to continue their strong start in the face of heavy casualties, Bobrovsky is going to be a driving force behind that.
The part where I predict things: Despite being shorthanded, the Jackets system is keeping them going. They play hard, they play fast and they play physical. With Atkinson stepping in to fill an offensive role and Johansen looking strong despite being winded most of the time, the Jackets are in good hands until the reinforcements can arrive.
The Stars, meanwhile, are just looking to get on track. I can't imagine Seguin and Benn staying quiet for much longer; the duo was an absolute terror last year and there's no reason to suggest they won't pick up where they left off.
Look for the Stars to get going a bit tonight, with the big two getting on the board. Bobrovsky might struggle a bit against this high-powered offense, but with the home crowd fired up,  it'll be hard to stop the Jackets. Look for Hartnell to tally his first as a Blue Jacket at a big moment tonight, giving the Jackets the slight edge.
Score: 4-3 Jackets
Follow me on twitter: @2PSBlog
Love Reading About Hockey?

Subscribe to keep up-to-date with the latest and most interesting hockey news!
| | |
| --- | --- |
| | We hate spam just as much as you |