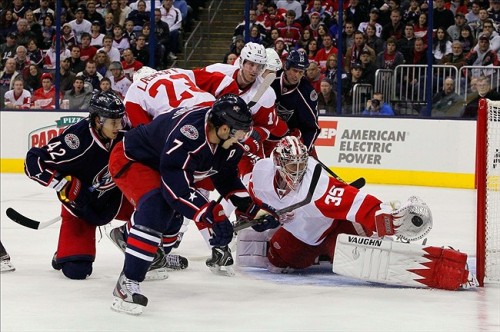 Who: Detroit Red Wings
Where: Nationwide Arena, Columbus, OH
When: 7:00PM
Know thine enemy: As much as things change for the Red Wings, they stay the same.
They currently sit fourth in the Atlantic Division with 21 points (8-4-5) and are getting surprisingly good defense and goaltending, allowing the third-fewest goals in the conference. Part of that has to do with a bit of a resurgence from goaltender Jimmy Howard. Howard is 7-3-4 with a 2.11 goals against average and a .919 save percentage. He's going to be one of the biggest reasons for the Red Wings success or failures this year.
Also filed in the "same" column is the uncertainty surrounding star center Pavel Datsyuk. He's suited up in 10 games for the Wings this year, notching 11 points but looks like he'll be out again thanks to a recurring groin injury.
Beyond him, the same faces are leading the way: Henrik Zetterberg leads the team in assists (13) and points (17) through 17 games, with Niklas Kronwall (12 points) and Gustav Nyquist (11 points) right behind him. Nyquist is following up a breakout year with a strong start, potting eight goals so far.
Without Datsyuk and Stephen Weiss, the Wings will be a little thin up front, but they still have enough talent to punish anyone who sleeps on them.
About the Blue Jackets: Knock on wood, but the team might finally be getting healthy. Sure, Ryan Johansen is a bit banged up, but is expected to suit up tonight. Boone Jenner, Artem Anisimov and Sergei Bobrovsky are back and ready to go. Brandon Dubinsky and Mark Letestu have been labeled as "day-to-day" and "week-to-week" respectively and Matt Calvert and Jack Skille both practiced Monday, with an eye towards returning to the lineup tonight.
With the Jackets coming off their second straight win, it could be the boost needed to sustain their winning ways. Johansen, Foligno and Hartnell remain the driving forces behind the offense and getting the reinforcements back should only amplify their efforts.
The part where I predict things: Both teams are still pretty banged up, but the Jackets are finally getting bodies back into the lineup. Detroit losing Datsyuk is bigger than anyone the Jackets have out (save Johansen if that's the case) and it'll be hard to replace that offense.
Both teams have goalies playing well right now and they'll likely spend most of this contest feeling each other out and trying to earn prime scoring chances to get one past the keepers. Riding a winning streak and playing at home, look for the Jackets to come out fired up early and grab the lead for good late in the second.
Score: 3-2 Blue Jackets
Follow me on Twitter: @2PSBlog
Love Reading About Hockey?

Subscribe to keep up-to-date with the latest and most interesting hockey news!
| | |
| --- | --- |
| | We hate spam just as much as you |