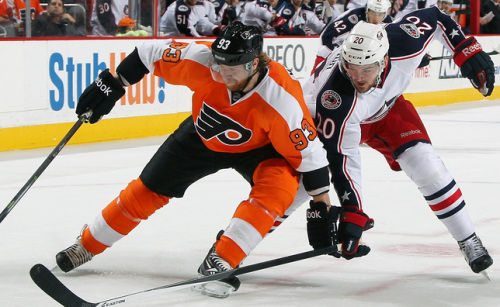 Who: Philadelphia Flyers
Where: Wells Fargo Center, Philadelphia, PA
When: 7:00PM
Know thine enemy: Same story, different year: the Flyers are pretty good offensively, but still have a really hard time figuring out how to keep the puck out of their own net. Part of that has to do with the patchwork defense they have in place, down Kimmo Timmonen probably for good, and leaning heavily on guys like Carlo Colaiacovo and Michael Del Zotto. That should explain their defensive woes right there.
Part of that, though, has to do with the less than stellar play of the goalies. Steve Mason, who was a pleasant surprise last year, has had a rough go of it so far. He's 3-4-1 with a bloated 2.90 goals against average and .913 save percentage. Backup Ray Emery, though going 4-1-1, hasn't been a whole lot better. He's got a 2.74 goals against average and .915 save percentage.
Offensively, the Flyers are pretty good and there might not be a better top line than the trio of Wayne Simmonds, Claude Giroux and Jake Voracek. The latter two are among the league leaders in points; Giroux with 18 points while Voracek trails only Sidney Crosby with 22 points.
Behind them, there's talent if inconsistency. Sean Coutourier, Vincenet Lecavalier and Brayden Schenn all have the talent, but the offense seems to come in fits and spurts for them. Fortunately for the Flyers, this group can get physical with just about anyone and putting a beating on the reeling Jackets could go a long way towards securing the win.
About the Blue Jackets: Same thing, different day for the Blue Jackets. So many regulars are out of the lineup, it's inconceivable to think that they can bounce back from this kind of start. Sure, they get Jack Johnson back from suspension, but nine regulars are still out of the lineup, including Vezina Trophy winner Sergei Bobrovsky.
The team is mired in a franchise-worst nine-game losing streak (0-8-1) and need to really bring the intensity if they're going to keep that out of the double digits. Scott Hartnell has been playing well of late with four goals in three games and needs to get this group going early. Getting Ryan Johansen back into the mix offensively probably wouldn't hurt, either.
The last time these two played:
The part where I predict things: I keep wanting to think that desperation will set in and the Blue Jackets will trounce someone just because they can't lose forever, but there's a vibe from this team that they are kind of defeated right now. It's hard not to be when you never really had a shot to start and people just keep dropping from the lineup, but there's still a shot (albeit small) to dig themselves out.
If this were a home game, I'd expect a fired up Blue Jackets to come out and start quick, but playing in front of a hostile Philly crowd with all of the momentum going against them, I just can't see how the Blue Jackets will walk away with this one.
Score: 4-2 Flyers
Follow me on Twitter: @2PSBlog
Love Reading About Hockey?

Subscribe to keep up-to-date with the latest and most interesting hockey news!
| | |
| --- | --- |
| | We hate spam just as much as you |