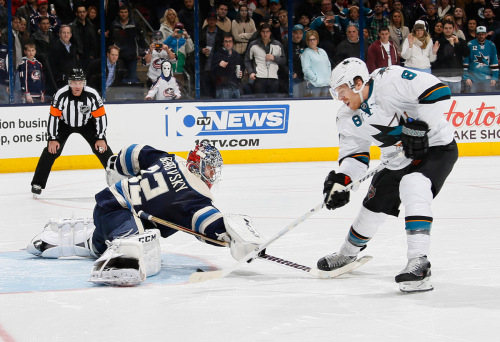 Who: San Jose Sharks
Where: SAP Center, San Jose, CA
When: 10:30PM
Know thine enemy: The Sharks got off to a hot start this season, going 3-0-1 before dropping back-to-back games against the New York Rangers and Boston Bruins. They even held a third-period lead against Boston, giving up three goals in the third period in the loss.
For all the turmoil in the offseason surrounding Joe Thornton and Patrick Marleau, both are off to hot starts. Marleau leads the team in goals with four and points with nine while Thornton sits third on the team in scoring with seven points. They're getting scoring from everywhere, with 14 guys having multiple points through their first seven games.
In net, the duties have been split pretty evenly between Antti Niemi and Alex Stalock, with the latter posting the better goals against average (2.27 to 2.70) and save percentage (.933 to .920). It'll be interesting to see how this situation shakes out over the course of the year.
About the Blue Jackets: The Jackets had an extended layoff since losing to the Senators on Saturday night. Unfortunately, news broke over the last few days that Nathan Horton's career might be over due to his degenerative back injury.
They should be rested, at least, and they can use every little boost they can get as the team tries to tread water until they get healthy. Ryan Johansen and Nick Foligno have been great for the Jackets so far, tying for the team lead in points with seven. Cam Atkinson has also stepped into the forefront with three goals through five games.
In net, it'll likely be Segei Bobrovsky again. He's been very solid so far, with a 2.00 GAA and .931 save percentage in his five starts so far. The team will get Curtis McElhenny back from injury early; he left Saturday's game after a collision in the second period.
The part where I predict things: Despite the meltdown in the playoffs and all the controversy in the offseason, the Sharks are still very much a force in the West. They are deep offensively and can score with just about anyone in the league. Their goaltending is still a question mark, but not such a big one that it should really affect them in the short-term.
Columbus, meanwhile, is very up and down. They started strong, but have fallen into a habit of giving up the early lead and needing to play catchup. Against the Sharks, that won't fly and the Blue Jackets need to make sure they get off to a better start.
Score: 3-2 Sharks
Follow me on Twitter: @TwoPadStackRW
Love Reading About Hockey?

Subscribe to keep up-to-date with the latest and most interesting hockey news!
| | |
| --- | --- |
| | We hate spam just as much as you |