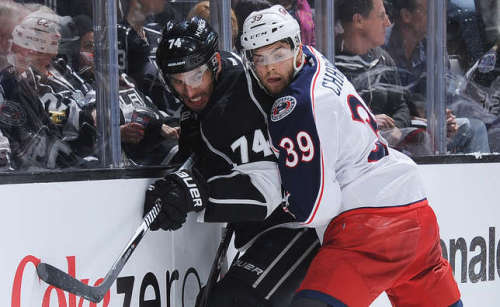 4Welcome to "Three things", your recap-like-substance for Columbus Blue Jackets games. No one wants to read "this happened, then this happened" boring recaps, so instead of doing that, we'll look at three important things from the night's action and talk about those.
This is a weekend edition, where I'll cover both Friday night's game against Anaheim and Sunday's tilt with Los Angeles. Let's get to it.
Nick Foligno news
In the third period of yesterday's game against the Kings, Foligno was racing with Jeff Carter for a puck when the former collided with the linesman. Foligno's head crashed into the side of the linesman and he had to be stretchered off the ice.
It was a scary moment, but according to Jackets' management, Foligno is going to be okay and that there is no major injury involved here. That is the absolute last thing the Jackets need right now: to lose a heart-and-soul player who is helping to carry the team during a rash of injuries.
It's unsure if Foligno will return for the Jackets' next game on Tuesday night at home or in Friday's home matchup with the Toronto Maple Leafs.
Bad Weekend for Bob
Guys named Bob are just having a rough go of things this weekend. The one of the AMC variety had a very bad night while the #1 Cop on the Force just had a rough weekend as a whole. He took both losses, giving up nine goals on 60 shots. He allowed a pair of goals to L.A. within two minutes of one another to give them a big 3-1 lead on Sunday.
It's starting to seem like Bobrovsky's workload might become an issue. He's played damn near every minute so far this season and the backup position was not one of strength even before Curtis McElhinney's injury issue.
Hopefully, McElhinney can step up and give Bob an opportunity to pace himself a bit better or he could burn himself out and cost both the team and himself.
That 70s Line
This isn't about the Blue Jackets, but holy shnikes is that line of Tyler Toffoli, Jeff Carter and Tanner Pearson on fire right now. They were the killer line on Sunday, combining for four goals, six assists as a group in the win over the Jackets.
Through eight games for the Kings, they've combined for 16 goals, 17 assists. That is absolutely outrageous. Pearson, the rookie of the group, already has seven goals and nine points to lead all NHL rookies. The scary part is that they are the only guys scoring for the Kings. If anyone else gets going – Anze Kopitar, Mike Richards – there will be no stopping the defending champions.
Follow me: @TwoPadStackRW