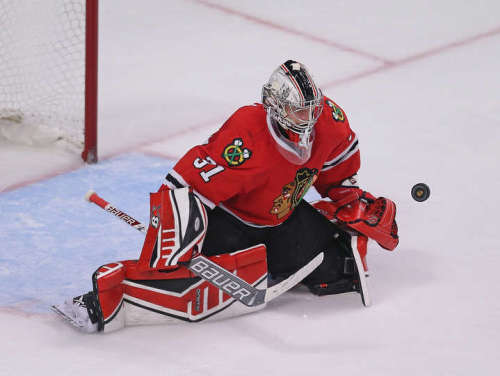 Corey Crawford's recent injury has proven valuable of the Chicago Blackhawks as of late. No, Crawford's season didn't end and he is back in the net as the starter. However, the brief hiccup did reveal that the Blackhawks do have some depth when it comes to netminders.
It's true in all examples; winning teams are built from the net outward. Every team that's won the Stanley Cup has done so on the shoulders of a fantastic netminding performance. While it's still way too early to start talking about playoff possibilities, Chicago does show those same signs of relying on goaltending consistency and experience in the net to help hold the confidence for the offense to go on the attack.
With Crawford being out of the lineup, the steering wheel was handed to Antti Raanta, who is NHL-worthy, though not as experienced. He is still becoming comfortable with the feel of an NHL net, the pace of the puck and play in front of him, and how to handle the responsibility placed on the goalie's shoulders every night.
To open his season, Raanta did well shutting down the Philadelphia Flyers and it was looking like the Blackhawks were in good hands with the backup netminder. The following two games against the Nashville Predators and the St. Louis Blues showed that, even though Chicago suffered losses, both opponents needed goals with just a few minutes remaining in regulation to seal the victory.
Young Josh Darling was able to get his first taste of NHL ice as he started three games while Crawford was away. Taking two wins and a loss, all of Darling's games were decided with one goal, with one game going into a shootout. This sends the message that even though Darling was just recently called up, and recently sent back down, he was able to stand between the pipes in the United Center. He isn't quite a full-timer yet, but he is showing promise. The Blackhawks have depth in net.
Raanta isn't a terrible netminder, and Chicago has a long and solid history of having a great farm system to raise younger up-and-coming goalies to fill in when asked. Though, Crawford's absence was felt, Raanta was able to step in and show that he can play at this level and with more time and experience he may be a starter as well.
The Blackhawks will be able to handle the waves, they always have. If Raanta can build that confidence, experience, vision, and feel that Crawford has, opponents will be sorely frustrated with two starter-quality goaltenders and the Blackhawks will see themselves in winning streaks and playoff predictions.
Love Reading About Hockey?

Subscribe to keep up-to-date with the latest and most interesting hockey news!
| | |
| --- | --- |
| | We hate spam just as much as you |