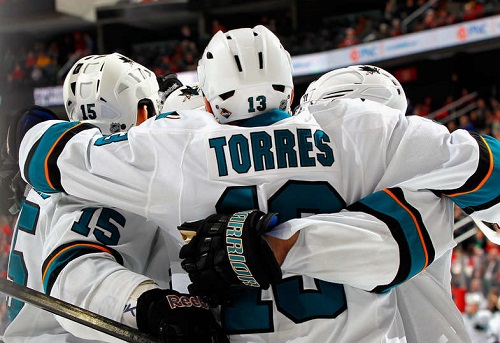 Logan Couture, Alex Stalock, Raffi Torres. What do these three guys have in common? All the fools saying "Oh I know! They play for the Sharks!" Congrats, you're correct, but more importantly they've been producing for the Sharks since the NHL resumed last week.
Logan Couture had hand surgery before the Olympic Break, and had an extra long hiatus of 16 NHL games. He was then promptly snubbed from Team Canada, and found himself with even a longer break before getting some real game action. The main question was whether or not Couture would be able to come right out of the gates and contribute to the team right away. Usually players need a couple of games to get back into the swing of things, but Logan isn't that kind of player. In his first game back, he scored three two goals (thanks Toronto) to help propel San Jose to a 7-3 victory against the Philadelphia Flyers. Then on Sunday, he fired a shot past Cory Schneider, giving him three goals in his first three games back. The Sharks scored 13 goals in the first three games, something that they haven't done in a while. Somebody else must be scoring right?
RAFFI TORRES IS BACK…AND SCORING!!!!
"Oh so we got a suspension magnet back, cool." Remember at the trade deadline last year when Torres was acquired by the Sharks and almost everybody was upset about it (including me.) He proceeded to spark the team to play beyond extremely well for the remaining games of the season, and so far it looks like he's doing it again! Raffi Torres played in his first game all season against Philadelphia after sustaining a torn ACL in the preseason against the Ducks. He didn't wait to make his presence felt, potting two goals for the teal men. He then took the night off against Buffalo (obviously why we lost) and suited up once again on Sunday. He scored a goal from a beautiful Joe Pavelski pass, helping San Jose get back in the W column. Torres has taken three shots so far this season, and put them all in the net. Torres coming back at the deadline again will surely spark the team, maybe even pushing them past Anaheim.
Lastly, something about Americans on the Sharks is wonderful. Joe Pavelski scored a hat trick the first game back from break, Tommy Wingels has continued to play his aggressive style, and Alex Stalock has stepped up to the plate big time.
Antti Niemi has been struggling. Ever since a little before the break, he's been shaky and inconsistent. He took on the third string role for Finland at Sochi, and now it looks like he's losing a little playing time to Stalock. The American has started two out of the three games so far, and won them both. Nemo on the other hand lost his only outing, which was against Buffalo. Niemi is still the number one guy, but with Stalock putting up impressive numbers, we never know.
Couture, Stalock, and Torres have all contributed to San Jose quickly, and if they keep it up, they may be the keys to a long playoff run.
Love Reading About Hockey?

Subscribe to keep up-to-date with the latest and most interesting hockey news!
| | |
| --- | --- |
| | We hate spam just as much as you |