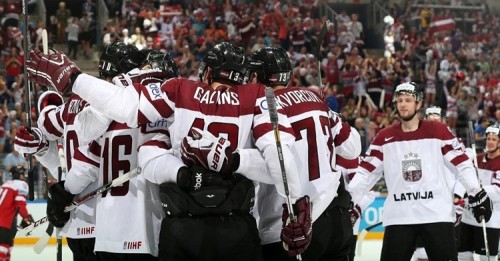 Coming off a 2-1 overtime victory against Switzerland the Latvians were feeling confident about themselves, and they showed that during their game against Austria.
Only a few minutes into the game a scrum broke out due to a hit to the head delivered by Aleksandrs Jerofejevs of Latvia. He got a minor penalty and misconduct but the game resumed without hesitation after the fight. The Austrians struck first late in the first period. With 3:53 left in the frame, Brian Lebler entered the right faceoff circle, received a nice pass from Michael Raffl from the side boards and shot it past Latvian goalie Edgars Masalskis on the blocker side for a 1-0 lead. Masalskis finished with 17 saves on the night.
Now playing down a goal, the Latvians needed to show some more intensity to have a chance at coming back. At 12:15 of the second, Lauris Darzins knotted the game up with a goal. He brought the puck down the left side and sent it cross-ice to Kaspars Daugavins, whose feed back across took a strange bounce off defenseman Florian Iberer. That lucky bounce enabled Darzins to tap it into a half-empty net from the slot. It was Darzins' third goal of the tournament.
In the third, the teams exchanged some chances but nothing was potted, so onto overtime the Latvians went for the second straight game. A short 33 seconds into the extra frame, Lauris Darzins assisted Kaspars Daugavins on the game-winner! The duo that combined for the first goal combined for the second goal, winning the game for Latvia! Both are riding six-game point streaks.
Latvia is eliminated from quarterfinal contention, but these games are helping their case for a return to the tournament next year. Latvia faces France on Tuesday for their final round robin game.