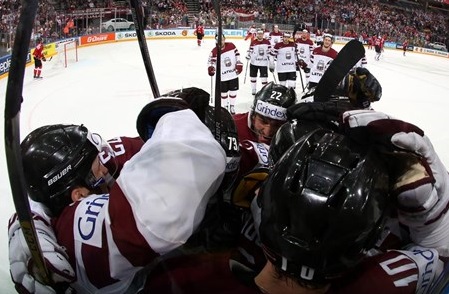 Latvia had not won a game yet in these World Championships until they skated past Switzerland in Overtime, securing a 2-1 victory at 2:19 of the extra frame.
There was no scoring in the first period, just back and forth action. It was at 4:19 of the second period that Latvia scored and went up by one. It was an odd-man rush, and Andris Dzerins skated down the left side, cut in to the hash marks, and sent a wrister high over Colorado Avalanche goalie Reto Berra's glove. Berra would finish with 19 saves on the night in the losing effort.
Later in the game the Swiss had a chance to tie on a 2-on-o situation but couldn't capitalize. Later in the game though, at 18:09 of the third, Matthias Bieber (no relation to the Canadian singer…or nuisance to society, up to you) whacked the puck during a wild goalmouth scramble and it bounced in off Latvian assistant captain Janis Sprukts's stick to tie it up.
In overtime, the Latvians started on a power play but did not convert. Sudden death continued until the winner was potted at 2:19. This game was a huge improvement compared to their loss against Sweden, an 8-1 thrashing. Remaining in round-robin for the Latvians are Germany, Austria, and France, not extremely difficult matches, but teams that should be never counted out.