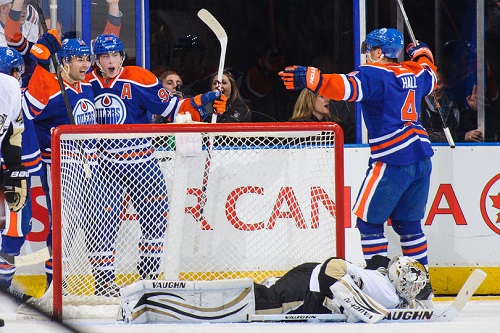 There has been a lot of speculation over the past few weeks over which NHL players will be making their respective nations' teams for the 2014 Winter Olympics; Canadian Sidney Crosby was at the top of the list, and after a practice at Rexall Place he spoke with Edmonton media about making the Olympic team, his thoughts about the Olympics, and – somewhat surprisingly – the Edmonton Oilers' rebuild.
I think it's always interesting to get others hockey players' perspectives on teams. While coaches play a big role in a team, being on the ice playing with, or against, someone, gives an entirely different perspective that can be incredibly valuable.
Crosby's perspective in particular is a great one, in my opinion, considering his origins. He too started very young and had wild speculation about his incredible skill level. He was considered THE draft pick in his year (2005), and ended up on a team that didn't do that well in his first year playing with them. I think he was in the same camp that a lot of the young players on the Edmonton Oilers are, and his insight gives an interesting view that's simultaneously an outside perspective and the perspective of someone who has gone through a similar experience.
The Pittsburgh Penguins went through a rough period in the early 2000s prior to drafting Crosby. Their luck started to turn around a year or two after Crosby joined the team, and he consequently got to witness a successful team rebuilding and revamping first hand.
He commented on the situation, saying "it was fairly quick. I think we finished second-to-last my first year, then we made the playoffs my second year and then the third year, we went right to the finals. We were able to gain some experience very quickly."
He spoke well of Edmonton's young talent and commented in a very insightful way on the situation, saying that "I think the guys in Edmonton here were thrown into some pretty important roles right away at a pretty young age… that's going to fast-track the learning curve and I don't think they're far away at all. I think they've got a ton of skill and, from playing against them, they've always come pretty hard at us. I know they've got a lot of skill and speed and I think that you just have to be patient when everybody is young. But at some point, when everything starts to click they're going to be good for a long time. "
I think in the sea of people deriding the Oilers and making negative statements, pointing the finger of blame towards literally anyone in the organization, it was a nice change of pace to hear something complimentary for once – especially coming from someone as skilled as Crosby. I've mentioned this before, but it's difficult to forecast exactly how a team will work out because it's not a matter solely of how skilled each individual player is – surprising victories and unforeseen failures in events like the Winter Olympics or World Juniors exemplify this. It's important that each player consistently grow and develop themselves and their skill set, yes. No good comes of remaining stagnant in one's playing level. However, it's a much more unpredictable formula to see how players will work together, what lines will work, what combinations will be the most productive, etc.
Perhaps I'm just a hopeless optimist but I've never been willing to write my team off. Whether they win or lose, I'm in the camp that fans should stand behind their team wholeheartedly. So, I'll continue to cover myself in blue and orange and hope for that moment where it clicks and Edmonton becomes a true force to be reckoned with.
Love Reading About Hockey?

Subscribe to keep up-to-date with the latest and most interesting hockey news!
| | |
| --- | --- |
| | We hate spam just as much as you |