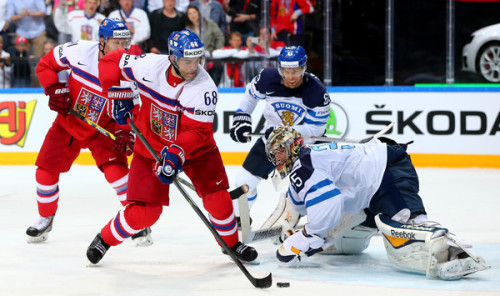 It is only fitting that 43-year-old Jaromir Jagr would score the game-winning goal to send the Czech Republic to the semifinals for the chance to at least compete for a bronze medal – something they haven't donned since 2012. Jagr also destroyed Finland's perfect penalty kill with a quick backhand in the second period to tie the game at two and blow the roof off of the O2 Arena in Prague.
Jan Kovar, the not-so-silent hero of the tournament for the Czech Republic, opened up the scoring with a beautiful one-timer from Martin Erat. Kovar would also score the second power-play goal against Finland this tournament, coming less than two minutes after the first by Jaromir Jagr
Czech captain Jakub Voracek assisted on both power-play goals along with Kovar and Jagr – a "power trio" if you will.
Since their 6-3 loss to Canada in the preliminary round, Czech Republic head coach Vladimir Ruzicka has been stressing shots, shots and more shots. It's only fitting that their quarterfinal victory over Finland would come with the Czechs leading in shots, 32-22.
Ondrej Pavelec outlasted Finnish netminder Pekka Rinne, stopping multiple chances for Finland to tie the game after pulling Rinne. "It's a great feeling," said Pavelec to IIHF reporter Lucas Aykroyd. "Crazy game."
Perhaps even sweeter that this win comes after their 3-0 shutout loss to Finland in last year's quarterfinals. Pekka Rinne was in net as well. "Rinne is obviously one of the best goalies in the world," said Voracek. "We did a good job on the power play and put a lot of pucks in the crease."
While a win in the quarterfinals certainly feels great for the Czech Republic, their attention must turn to facing an undefeated Canadian team. "They've dominated the tournament, but it's a new day on Saturday," said Czech netminder Ondrej Pavelec. "Tomorrow is an important rest day for us. Canada is a great team. Everyone knows that. We'll do our best to beat them."
In their 6-3 loss to Canada in the preliminary round, the Czechs were outshot in all three periods and had trouble remaining disciplined throughout the game.
The Czech Republic and Canada take the ice at O2 Arena on Saturday for their semifinal showdown.
Love Reading About Hockey?

Subscribe to keep up-to-date with the latest and most interesting hockey news!
| | |
| --- | --- |
| | We hate spam just as much as you |