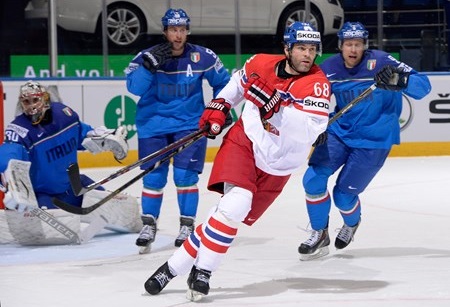 I wasn't entirely sure that Italy had an actual ice hockey team; to a degree, I just assumed the dudes over at EA B.S'ed the entire International team section. Honestly, I was a bit disappointed when Italy vs. Japan didn't materialize as Mario and his troop of friends duking it out against Iron Chef Morimoto and a clan of fruit ninjas. Really dropped the ball on that one, guys.
Anyhow, I digress. Clashing on Wednesday, the Italians squared off in what proved to be a one-sided affair, falling to the Czech Republic by a score of two goals to none. Propelled by a second period Jiri Sekac goal, the Czechs would rip 37 shots at the Italian net, with the heroics of goaltender Daniel Bellissimo standing as the lone difference maker between a competitive score and a blowout.
Resting St. Louis Blues regulars Vladimir Sobotka and Roman Polak, the Czech contingent was no worse for wear, thoroughly oppressing the underdog Italians in every zone. Following a scoreless first period, the Czech Republic bared down on its opponent, throwing a double digit shot count (eleven, to be exact) while trimming its PIMs. With Jiri Hudler and leading scorer Ondrej Nemec assisting on Sekac's tally at 2:53 of the frame, the Czech Republic broke the ice, scoring a much-needed goal to effectively bury an ineffective Italian side.
*please excuse this five minute intermission, as Alex Lopez loses his goddamned mind following the Heat's come-from-behind victory over the Brooklyn Nets*
With a one-goal lead firmly secured, a Roman Cervenka feed turned Jaromir Jagr marker all but ended the contest, leaving starting goaltender Alexander Salak to mop up four Italian efforts on net en route to his first shutout of the tournament. Toting a 1-1-1-1 record into their next contest, the Czech Republic will look to improve upon their third-place standing, squaring off against the Danes in a Saturday matinee.
I'm sunburned to the point where it looks like I'm wearing a shirt. I'm not wearing a shirt.
Love Reading About Hockey?

Subscribe to keep up-to-date with the latest and most interesting hockey news!
| | |
| --- | --- |
| | We hate spam just as much as you |