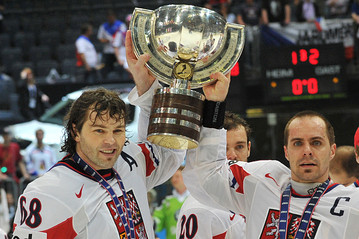 Everyone (allegedly) loves that mythical mix of youth and experience-just ask the dudes behind Just For Men's "Touch Of Gray" commercials (come on, HE TOTALLY GOT IT IN). In the spirit of bad acting cheap hair products for men in the midst of a mid-life crisis, the Czech entry into this year's edition of the IIHF World Hockey Championships will seek to channel both veteran experience and youthful exuberance in a bid to capture its first gold since 2010.
Per the IIHF's official team rosters, here are the players under Head Coach Vladimir Ruzicka's tutelage:
No
Name
Shoots
Catches
Height
cmft dm
Weight
kglbs
Date of Birth
Club

Goalkeepers



1
KOVAR Jakub
L
184/6'0"
91/201
19 Jul 1988
Avtomobilist Yekaterinburg
53
SALAK Alexander
L
190/6'3"
88/194
5 Jan 1987
SKA St. Petersburg

Defensemen

2
KINDL Jakub
L
192/6'4"
95/209
10 Feb 1987
Detroit Red Wings
3
ZAMORSKY Petr
R
180/5'11"
86/190
3 Aug 1992
HC Zlin
23
NEMEC Ondrej
R
182/6'0"
92/203
18 Apr 1984
Lev Prague
27
KOLAR Jan
L
190/6'3"
92/203
22 Nov 1986
Donbass Donetsk
46
POLAK Roman
R
188/6'2"
103/227
28 Apr 1986
St. Louis Blues
55
SEVC Martin
L
183/6'0"
89/196
23 Sep 1981
Lev Prague
74
VITASEK Ondrej
R
193/6'4"
97/214
4 Sep 1990
Bili Tygri Liberec

Forwards

10
CERVENKA Roman
L
182/6'0"
89/196
10 Dec 1985
SKA St. Petersburg
12
NOVOTNY Jiri
R
189/6'2"
97/214
12 Aug 1983
Lev Prague
17
SOBOTKA Vladimir
L
178/5'10"
83/183
2 Jul 1987
St. Louis Blues
20
KLEPIS Jakub
L
186/6'1"
91/201
5 Jun 1984
Lev Prague
24
HUDLER Jiri
R
175/5'9"
84/185
4 Jan 1984
Calgary Flames
26
ZATOVIC Martin
L
179/5'10"
90/198
25 Jan 1985
HC Karlovy Vary
43
KOVAR Jan
R
180/5'11"
94/207
20 Mar 1990
Metallurg Magnitogorsk
99
HERTL Tomas
L
188/6'2"
89/196
12 Nov 1993
San Jose Sharks
60
ROLINEK Tomas
L
177/5'10"
84/185
17 Feb 1980
Sparta Prague
64
SEKAC Jiri
L
187/6'2"
88/194
10 Jun 1992
Lev Prague
68
JAGR Jaromir
L
189/6'2"
102/225
15 Feb 1972
New Jersey Devils
88
PETRUZALEK Jakub
R
176/5'9"
80/176
24 Apr 1985
Ak Bars Kazan
Constructed by General Manager Slavomir Lener, the primary threat of this year's squad appears to be its offensive firepower; spearheaded by ageless wonder Jaromir Jagr and career-ending wunderkind Tomas Hertl, the forward core consists of primarily KHL talent, with NHLers Vladimir Sobotka and Jiri Hudler sprinkled in for good measure. Stay-at-home rearguard Roman Polak headlines an otherwise underwhelming defensive corps, with Detroit Red Wing Jakub Kindl providing the only other burst of name recognition. Though populated by two KHL netminders, the Czech goaltending tandem of Jakub Kovar and Alexander Salak has the potential to stabilize things from the back-end; per HockeyDB, Kovar-a former Philadelphia Flyers fourth-round pick-clocked an astounding .931 Save Percentage through 48 games played, complemening a 2.01 Goals Against Average that speaks volumes when viewed in the context of the offensive-minded KHL. Salak, a former Florida Panthers prospect, turned in an equally respectable .929 Save Percentage, coupling with a 1.96 Goals Against Average. Although the stakes are raised on the international stage, look to this tandem to emerge as a potential breakout candidate, given the defense bails them out when needed.
Situated in Group A, the Czechs begin their road to glory tomorrow, squaring off against Slovakia in the group's opening nightcap. Other preliminary games for the Czech Republic include:
May 11th vs. Sweden (20:45)
May 12th vs. Canada (20:45)
May 14th vs. Italy (16:45)
May 17th vs. Denmark (16:45)
May 18th vs. Norway (20:45)
May 20th vs. France (20:45)
ONDREJ PAVELEC DIDN'T MAKE THE SQUAD LOLOLOLOLOLOLOLOLOLOLOLOL
Love Reading About Hockey?

Subscribe to keep up-to-date with the latest and most interesting hockey news!
| | |
| --- | --- |
| | We hate spam just as much as you |