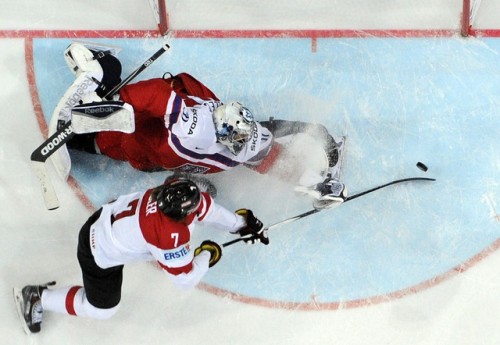 What started as a defensive duel eventually lead to a second offensive explosion in 48 hours for the Czech Republic.
Czech goaltender Ondrej Pavelec and Austrian goaltender Bernhard Starkbaum had their hands full to start the game, recording six and eight saves respectively.
The goaltending duel continued until just over halfway through the game when Ondrej Nemec scored his third goal in two days at 11:09 in the second period. Once again, Nemec went for the easy play getting the puck to the net. The same shoot first mentality got him on the board in their last game against France.
Nemec, along with Jan Hejda, factored in on Martin Zatovic's third goal of the tournament – a beautiful two-on-one, top-shelf tap-in.
Though not credited with an assist, Jaromir Jagr certainly helped by screening Starkbaum on the Czech's third goal scored by Vladimir Sobotka. Nearly shot from the same spot as Nemec's goal, the puck beat Starkbaum blocker-side as well.
Rene Swette replaced Starkbaum for Austria to start the third period, and was welcomed by a Jakub Voracek breakaway goal to put the Czech Republic 4-0.
Though the shots were 8-6 in favor of the Czech Republic at the end of the first, with the final shot total at 42-12 in favor of the Czech Republic. The Czech's offensive surge in the second period consisted of 22 shots to the Austrian's two.
Ondrej Pavelec recorded his first shutout of this year's tournament, the third of his career.
Austria is still without a win in regulation in the tournament with only one shootout win against Switzerland.
The Czechs currently sit in third place in Group A with 10 points. They play Germany on Sunday.