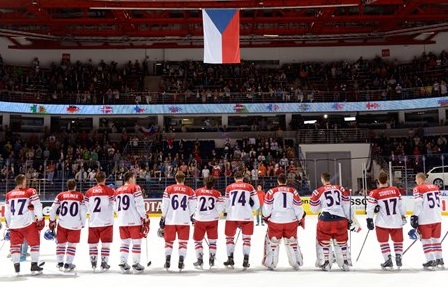 They made it about as smooth of a ride as Con Air, but they got it done. So quit yer bitchin'.
In what proved to be a roller-coaster of a contest, the Czech Republic overcame an early 3-0 deficit, scoring four unanswered goals before securing an overtime win and clinching a playoff spot against pesky France. Combining for nine goals, both squads fought hard to the end of a 5-4 finish.
Typical of this Czech squad, the game's start found them caught on the wrong foot; paired against an underdog French side that had already conquered the likes of Canada and Slovakia, the Czechs were burned out of the gates, conceding three goals in roughly 18 minutes. Firmly planting themselves in a hole deeper than the hell-hole Bane climbed out of, Vladimir Sobotka cut the deficit to two with under a minute remaining in the frame, gaining traction and building momentum for a Czech side in desperate need of all the Deshi Basara's it could muster.
Lighting a fire under the Czech Republic's collective ass, Sobotka's unassisted effort proved to catalyze Captain Tomas Rolinek's squad; answering with a three-goal barrage of their own, goals by Jiri Sekac and Martin Zatovic sandwiched a Jaromir Jagr strike, thrusting the Czech Republic ahead by a nose at the second intermission. The period would see a swarming Czech contingent test France's Florian Hardy a game-high 18 times, with the Ligue Magnus product receiving no help from his skaters.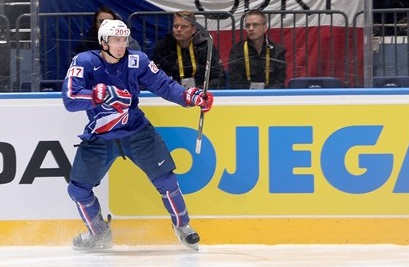 With the start of the third period, the light switch would once again flip in favor of the French; solving a mediocre Czech penalty kill, Dallas Stars man Antoine Roussel's effort struck true, pulling France back even with the surging Czech Republic. Both goaltenders would hold strong for the remaining 17 minutes, forcing overtime and providing spectators at the Chizhovka Arena some free hockey.
Then capitalism happened, and-since nothing in this world is free-defenseman Jan Kolar brought the hammer down on the good people's hopes and dreams of entertainment free of charge, potting his first of the tournament and slamming the game shut at a final score of five goals to four. Everything turned out peachy, however, as both teams secured playoff berths as Group A's third and fourth placed finishers. Not so suckish, eh?
What DOES suck TREMENDOUS eggs, however, is the final draw; shafted yet again, the French are due to square off against tournament-leaders Russia, with the Czech Republic drawing a significantly more favorable match-up against a United States squad featuring Florida Panthers prospects Vincent Trocheck, Drew Shore and Jimmy Hayes.
The sh*t goes down this Thursday. GET HYPE THO.