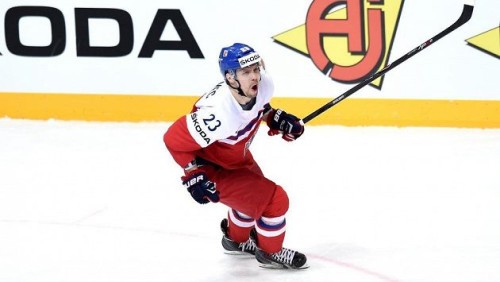 France hoped to beat the Czech Republic for the first time in tournament history but fell short yet again.
With two goals and one assist, Ondrej Nemec had his best game of the tournament so far in the Czech Republic's win over France.
Nemec opened up the scoring just 1:10 into the second period with a shot from the blue line that found its way behind French netminder Florian Hardy. He went on to score the Czech Republic's fourth goal of the game in the third period and assist on on the fifth.
Despite a scoreless first period, the Czech Republic kept the ice tilted in their favor outshooting France 14-3. Keeping their feet on the gas, they went on to outshoot France 40-20.
Jaromir Jagr was a trickling puck away from a highlight reel worthy, spin-o-rama goal early in the third period. Four minutes later, Jagr found himself in front of the net to tap in a rebound off of a Jan Kovar shot. All three of Jagr's goals this tournament have been right around the net and have each set the record for the oldest player to score in the tournament. He has adjusted his game to still be an extremely effective player, even at 43-years-old.
Czech goaltender Ondrej Pavelec had a quiet game, not having to record more than eight saves in a period. Despite the lone goal for France by Kevin Hecquefeuille, Pavelec finished the game with a .950 save-percentage.
10 different players recorded a point for the Czech Republic thanks to head coach Vladimir Ruzicka's line changes after what started as a hard-fought battle against Team Canada.
The Czech Republic will face Austria next, who are still looking for their first regulation win of the tournament.