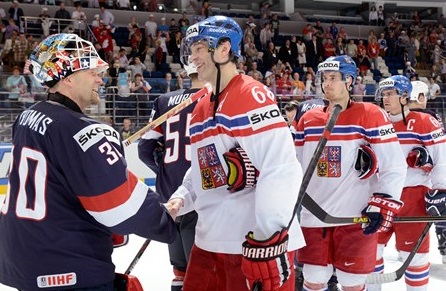 It just wouldn't be a game if it wasn't decided by a lone goal, now, would it?
Powered by a burs, burs, burs of goals on the man advantage, the Czech Republic rallied from an early deficit, holding the line by the skin of their teeth in an exciting 4-3 quarterfinal victory.
Squaring off against American counterpart Tim Thomas, Czech goaltender Alexander Salak sought to shut the door against a spry American squad, featuring the likes of Nashville Predators sensation Seth Jones, Calgary Flames hotshot Johnny Gaudreau and Detroit Red Wings teammates Dan Dekeyser and American Captain Justin Abdelkader. The game, however, got off on the wrong foot for the former Florida Panthers prospect; deflecting home a Peter Mueller (HOLY CRAP A PETER MUELLER SIGHTING) slapshot from the point, New York Islanders forward Brock Nelson beat Salak, drawing first blood at 6:54 of the first frame. That lead, though, would prove short-lived; with a solo effort, Czech Captain Tomas Rolinek equalized, bringing the score to 1-1 before the halfway point of the period.
Continuing his penalty woes, Abdelkader would be booked for charging in the first, with the American penalty kill bailing out its leader. The edgy winger, however, would commit one mistake too many; leaving his feet and sending Czech center Vladimir Sobotka on a one-way trip to Narnia (the St. Louis Blues pivot was leveled by a shoulder TO THE FACE), Abdelkader was ejected, tacking on a second charging call to a Game Misconduct that left the Red, White and Blue short-handed for five minutes. Capitalizing on a loose puck opportunity, Tomas Hertl emerged from a netfront scrum to whack home his second of the tournament; Jiri Novotny picked up the only assist on the play. Sparking a Czech rally, the Teenage Mutant Ninja Hertl strike was the first in a salvo of power-play goals; on the same advantage, Roman Cervenka jammed home another, with Petr Zamorsky and overtime hero Jan Kolar notching assists. Minutes later, with Brock Nelson in the sin-bin, Ondrej Nemec extended the lead to three. The Novotny and Jaromir Jagr-powered strike seemingly booked a sure-fire berth in the semifinals, with closing a clean third period the only task remaining.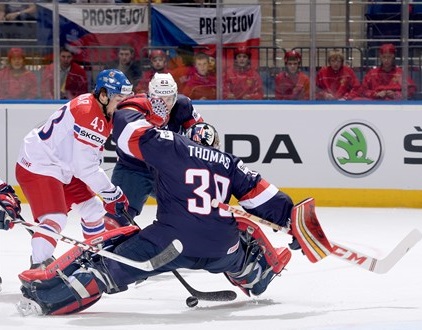 The Czechs almost had it, too; bending with the added pressure, the Czech defense held the American attack scoreless until, with 1:10 remaining, Tampa Bay Lightning forward Tyler Johnson cut the lead to two, with Peter Mueller providing yet another primary assist. Seconds (literally, 13 seconds) later, Johnson found twine again, as Mueller assisted on the knuckle puck that beat Salak blocker-side. With under a minute remaining, the United States could taste blood in the water; they swarmed, but the cardiac Czechs managed to slam the door, ending the American tournament run at the quarterfinals.
Two days separate the Czech Republic from a semi-final tilt with either Canada or Finland; will they prevail? STAY TUNED. Weather at nine.