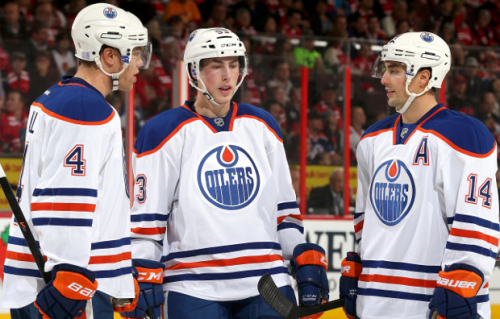 The 2014-2015 NHL season is fast approaching, to the joy of hockey fans everywhere, and consequently training camp is in full swing. The Edmonton Oilers' training camp began last week (September 18, to be specific) and the players were put through their paces. Oilers were tested on their strength, mobility, endurance, and overall health to ensure they were in peak condition for the upcoming season.
In a tip of the hat to the old legacies, they were also places into three teams for one of the practices – Team Gretzky, Team Messier, and Team Kurri.
The oft-derided head coach Dallas Eakins expressed his focus for the preseason, and it isn't to keep playing around with endless combinations in a hope that somehow the team will stumble upon a winning formula. Instead, what he hopes to achieve is something far more practical – line chemistry.
Here are some of the forward lines that, according to how things are going at practices, will possibly be on the ice together.
Most obvious is, of course, Taylor Hall, Ryan Nugent-Hopkins, and Jordan Eberle. They're three of the team's beloved young forwards and they have a history of success with each other. The Oilers have been flopping between nurturing the trio, and attempting to pair them with less successful forwards to spread the success, in past seasons. They're trying to add a little shine to these stars by giving them more chances to practice together, and by the looks of things they're virtually guaranteed to start as a cohesive line together.
The next potential forward trio is Benoit Pouliot, Leon Draisaitl, and David Perron. The newbie Draisaitl has been hyped a lot, and this line allows him to be flanked by two more veteran players.
Another line will potentially be Nail Yakupov, Mark Arcobello, and Teddy Purcell. While many forwards flip flop between sides in certain situations, Eakins seems to want his forwards to start out on the side that is most natural for them. This line is interesting considering Eakins' comments about two of the players included. Yakupov and Eakins had an infamous beef going on for a little bit as Yakupov expressed dissatisfaction with how he was being used, but the two smoothed it over and Eakins seems set to increase Yakupov's role. Additionally, the newly seven-pound heavier (172 as opposed to last season's 165 lbs) Mark Arcobello seems likely to get a bigger role, as Eakins has expressed he has a "comfort level" with Arcobello based on his performances last season.
Another option is Matt Hendricks, Boyd Gordon, and Jesse Joensuu (although Joensuu will be fighting with Tyler Pitlick and Steve Pinizzotto for his spot, so that may be uncertain).
Other forwards in the mix are Anton Lander, Steve Pinizzotto and Ilro Pakarinen, and Tyler Pitlick, Will Acton, and Ryan Hamilton. Luke Gazdic is listed as injured for now, due to his need to really fully recover from shoulder surgery before getting back into his aggressive enforcer role.
Eakins has stated in interviews that he'll try different combinations but that wingers are unquestionably stronger in their ability to protect the puck on their natural side, so any combinations will be taking that into consideration.