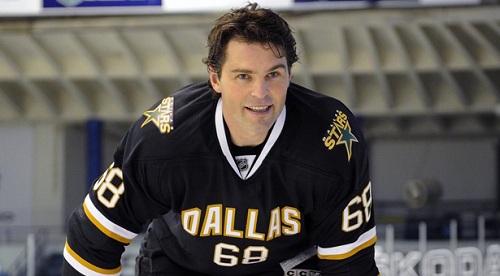 Alright, we're finally back from the NHL lockout. It's about damn time. We've got a 48 game season on our hands which is better than nothing. For the Dallas Stars, it's a chance to get back to the Stanley Cup Playoffs and back to their glory days. 1999 seems like decades ago for most Stars fans and most are hoping that this season will be a step back in the right direction.
The 2011-2012 season ended in disappointment for Stars fans. The Stars finished 42-35-5 for 89 points. The 89 points were good for 10th in the West, 6 points out of a playoff spot. After missing the playoffs for the 4th consecutive season, the Stars finally decided to make some major offseason moves. Here is your 2013 Season Preview of the Dallas Stars.
Key Additions: Jaromir Jagr, Ray Whitney, Derek Roy, Aaron Rome, Cody Eakin
Key Losses: Mike Ribeiro, Steve Ott, Sheldon Souray, Adam Burish
For Stars fans, those are some big names leaving town. Mike Ribeiro finished his Stars career with 123 goals, 284 assists, and 407 points in 461 games. He was one of their key offensive leaders but after 4 years of no success, the Stars decided to send him to the Washington Capitals in exchange for forward Cody Eakin and a 2nd round pick. Another big name leaving the Stars is Steve Ott. Ott was known as a pest that every now and then could chip in offensively. Ott had played his entire career for the Dallas Stars but eventually he went out of style with Dallas management and they dealt him to the Buffalo Sabres in exchange for Derek Roy. Other notable losses include defenseman Sheldon Souray and forward Adam Burish. However, the Stars brought in a wealth of talent and experience to replace the departed. Jumping off the page is Jaromir Jagr. Yeah he's no longer in the form that got him to #8 on the NHL's all-time scoring list. However, last year Jagr proved that he could still play when healthy, tallying 19 goals, 54 points and 73 games. Obviously we'll have to temper our expectations as Jagr was playing with Claude Giroux in Philadelphia and won't have a player of that caliber on his line in Dallas. Nonetheless, he brings experience, talent, and attention to the Dallas Stars.
Another savvy veteran the Stars added is Ray Whitney. Despite being just 5 months shy of 41 years of age, Whitney can still bring it. Whitney scored 24 goals and 77 points last season for the Phoenix Coyotes. He can definitely bring that playmaking ability to the Stars. Finally, the last major addition is Derek Roy. Roy fell out of favor in Buffalo, but maybe a change of scenery will help him find his game. When he's on his game, Roy is a 30 goal scorer, a good faceoff man, and a good penalty killer. He's a guy that can do a lot of the little things for the Stars.
What To Expect This Season
The Stars have their work cut out for them. Going back to the 1994-1995 season, the last time a 48 game season was played, it took 42 points to make the playoffs in the West which is a pretty measly number. Unfortunately for the Stars, there were only 26 teams in the league and 16 got to make the playoffs. Now, there are 30 teams, but still just the 16 making the playoffs. If you look at last year, the 8th seed in the West finished with 95 points. If you take that number and prorate it to a 48 game season, you are talking about 55-56 points. I don't think the 8th seed will need that many points, but I'm thinking between 50-52 points will be required to make the playoffs. The shorter season should benefit the Stars' veterans. The key is to avoid a slow start. If the Stars can start the way they started last year, they have a good shot at making the playoffs. Last year through 48 games, the Stars were 25-21-2 with 52 points, or right around the cutoff. I don't expect the Stars to break up the line of Loui Eriksson, Jamie Benn, and Michael Ryder as that was one of the lone bright spots last season. That will allow newcomers Derek Roy, Jaromir Jagr, and Ray Whitney to form another line. That's a pretty strong top 6 forwards.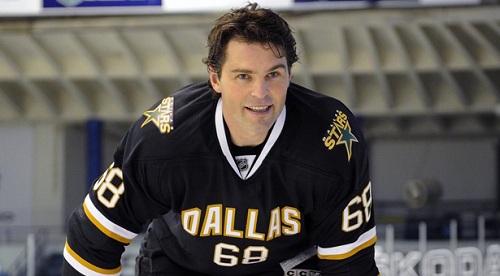 The key for the Stars will rest on their defense. By letting Sheldon Souray go, the Stars are taking a leap of faith that both Cody Eakin and youngster Philip Larsen will pan out. Both have very limited NHL experience, but they have shown promise. The Stars will be able to score for sure, but will a top 6 defensive group of Alex Goligoski, Stephane Robidas, Mark Fistric, Trevor Daley, Philip Larsen, and Aaron Rome be enough? The goaltending situation is up in the air for the Stars. When healthy, Kari Lehtonen proved that he could still play. Unfortunately, staying healthy has been a big problem for Lehtonen. In the offseason, the Stars re-signed Richard Bachman after he proved serviceable last season.
Prediction
According to sources, the NHL schedule will consist of 18 divisional games and 30 games against other teams in their conference. For the Stars, they went 12-11-1 against their division last year and 34-28-2 against the West. I expect a similar winning percentage, putting the Stars at 24-22-2 for 50 points, good for 8th in the Western Conference.