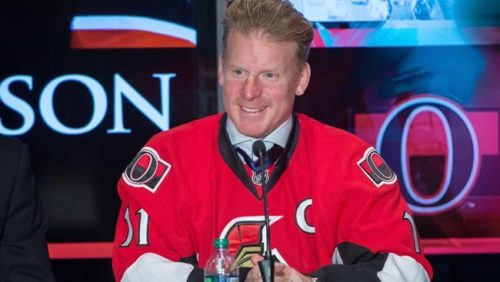 Praise Alfie, Ottawa.
At a press conference fans had long expected, Senators owner Eugene Melnyk announced on Monday that Daniel Alfredsson will have his iconic jersey number 11 retired in a ceremony prior to Ottawa's game against the Detroit Red Wings Dec. 29 – a game that features the only two teams Alfredsson ever played for in his 18-year career.
That Alfredsson, the centrepiece of so many great Sens teams in his 17 years with the club, will have his number retired during a season in which the team also celebrates its 25th anniversary seems only fitting. So, too, does the fact Alfredsson's will be the first number retired by the modern-era Ottawa Senators franchise (joining Frank Finnigan of the 1920s- and '30s-era).
But there was a time – only a few years ago, in fact – when such a statement of recognition seemed in doubt. For as logical as it seems now to give the organization's biggest honour to its longest-serving captain, the prospect of Alfredsson ever making amends with the organization seemed questionable at best for a while after his bitter divorce in free agency three years ago.
But the two sides have since settled their discord, with Alfredsson taking big steps to show his commitment to the organization and city: He signed a one-day contract to retire a Senator, took a front office position with the team and, as was just recently discovered, moved his family back to the city that became his second home.
For the man who leads the franchise in so many categories – goals, points and game-winning goals among them – and who has done seemingly everything for the city except bring home a Stanley Cup, his jersey retirement was the only glaring omission on the list of organizational achievements.