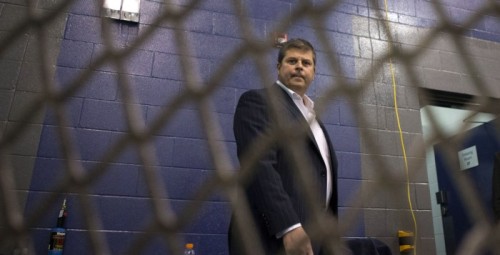 Free agency is here and so the Toronto Maple Leafs begin the process of filling holes from another later fall from grace to end the season.
Since June 25, NHL teams have been allowed to talk to pending free agents and their representatives to set up the idea of a possible deal.
The Leafs have only a handful of core players locked up going into next season and they are now in a position where they need make some serious decisions.With $15M of free cap space, there is room to play but not as much as some other teams in need.
Depth right now is an issue. Right down the roster and at every position, the vacancies are adding up.
The Leafs top priority this off-season has been Dave Bolland. While both parties have stated their admiration for one another, the Leafs don't feel Bolland is worth the eight year $5.5M deal he had been asking for. Perhaps Leafs' management don't think Bolland can keep up the clutch play or more simply they want to avoid another David Clarkson scenario…
Another player who seems almost certain to leave is Nikolai Kulemin. The winger played decently with the Leafs but they think they can find an upgrade this off-season. For Kulemin, things may be looking up since the Penguins recently traded their sniper James Neal. They need a replacement and who better then Evgeni Malkin's best bud?
Mason Raymond was a surprise last season for the Leafs. Nonis knew Raymond's game well from his days in Vancouver and saw some potential in the speedy winger. Loosing Raymond would leave a huge hole in the Leafs roster and they would need to address filling in quick or run the risk of a lack of secondary scoring. Raymond has proven he's a worthwhile player on any team and he can expect various teams will come knocking.
McClement and Ranger may just be throw aways as they struggled this past season. There are quite a few players who could slot in not only through free agency but also through call-ups from the Toronto Marlies.
Recent shake-ups on the blue line have also given fans a glimpse of what to expect heading into next season. With Carl Gunnarsson traded to the Blues for another physical defensive minded player in Roman Polak and Tim Gleason being bought out, it's clear that the young guns are up.
Jake Gardiner and Morgan Reilly now have their chance to make an impact on the back end. The only issue that seems manageable is signing pending RFA Gardiner to a new deal around the two-year mark. Regardless, this is a great sign that the Leafs trust their young players, want them to stick with the big club and only get better.
For once, establishing an starting goaltender isn't a worry for the Leafs but that doesn't mean they're not working on their bettering themselves. James Reimer, also a pending RFA, has requested a trade but the market may not be there for that to happen. As of right now, Reimer should be expect to start the season in the blue and white. It isn't ideal for the proven starter but the tandem the Leafs had going was hard to question.
To say the Leafs need to work fast is an understatement. Their players have already gained attention from the league's best that are in need of a little depth. The Leafs need to be smart and do what is best for the long-term development of the team. Here's hoping the knee jerk decisions remain at a minimum this July 1.