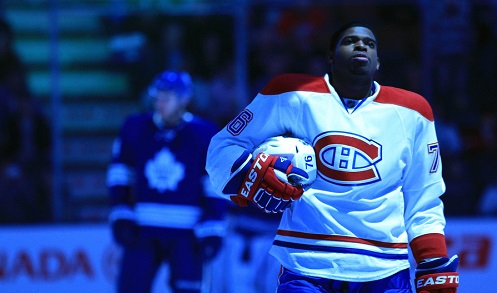 For a city with such dedicated and passionate fans to their home team, Toronto has oddly become a place for Canadians to come together and support the one team that Leafs Nation has historically come to hate.
The Montreal Canadiens are the only team north of the border to make this year's Stanley Cup Playoffs. After sweeping the Tampa Bay Lightining and upsetting the Boston Bruins in seven games, the Habs now find themselves in a great position to make it to the Stanley Cup Finals.
At least when they had Carey Price that is… but that's another story.
But why is Habs fever so rampant in Toronto? There are countless bars in and around the city that have been packed on a nightly basis with Habs fans. It's obvious that not everyone who lives in Ontario has to like the Leafs but since when is cheering for "the only Canadian team" a good reason to jump onto the bandwagon?
It is that fact alone that doesn't even make sense. Being a Canadian team is just fine but that doesn't mean that the entire country unites and sets aside their differences in allegiance for them. This is club hockey, not an international competition like the Olympics or World Championship. 56% of the Habs roster is made up of Canadian-born players according to CBC. The Leafs lead the league with 81%.
Historically, the Leafs and Habs rivalry has been more than just the sport of hockey. Have Leafs fans forgotten about the province of Quebec choosing at one point to separate from the rest of Canada? A province that doesn't see themselves as a part of Canada leads to confusion when handling the "Canadian team" argument.
Many Canadians may also be familiar with the famous piece of Canadian literature, The Sweater by Roch Carrier.
This is a childhood recollection of being traumatized for wearing a Leafs jersey in Quebec. Not only are their jabs at the lack of french representation in Canada but the short story also cites Montreal as the best club in the world. The story came at a time when Quebec felt that their identity was at risk due to English-speaking Canada.
The fact that this story has been drilled so deep in the Canadian lifestyle that is transcribed on the back of the Canadian five-dollar bill is proof enough of what it's like to be a Leafs fan in Montreal or Habs fan in Toronto.
To be a fan of hockey and to enjoy every game is one thing. But to become a fan of a certain club when it seems convenient is just for show. These two teams have and will continue to dislike one another and dedicated fans will stand by their team despite the highs and lows. There is just no way anyone could be a fan of the Leafs and Habs.
Would the tables be turned if the Habs and Leafs were to swap their success in the future? Would Montreal see their faithful fans donning the blue and white sweater?
Love Reading About Hockey?

Subscribe to keep up-to-date with the latest and most interesting hockey news!
| | |
| --- | --- |
| | We hate spam just as much as you |