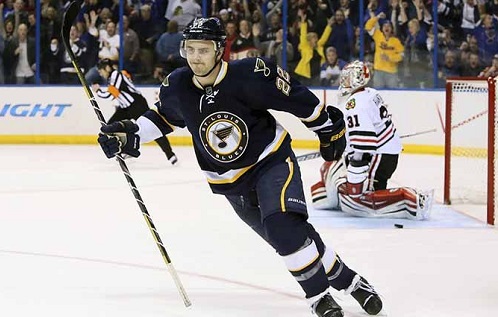 Another unsuccessful season for the Blues means the blame game will be played again to pinpoint the responsible party. One position that won't have to worry a whole lot about shouldering the blame is the defense, which – all things considered – had a great season.
Plus/minus is a fairly flawed stat, but for what it's worth, St. Louis' regular season plus-37 was good enough for fourth in the league. They also allowed the third fewest goals against with 188 and their penalty killing percentage was 85.7, which was second only to the New Jersey Devils.
They didn't slack off on offense either as the "D" contributed 34 of the team's 239 goals (14 per cent) and 182 of the team's 630 points (29 per cent). So it's fitting a defenseman – Kevin Shattenkirk – would lead the team in playoff scoring this year in what few games they played.
But make no mistake: This team is in need of a shake up if it has any hopes of changing its playoff fortunes going forward. And the defense can play a big part in that, given its pedigree and value in trades. The following are the ages and contract situations for the defensemen:
– Alex Pietrangelo: 24 years old, under contract until 2019-20 (No Trade Clause)
– Kevin Shattenkirk: 25 years old, under contract until 2016-17
– Ian Cole: 25 years old, under contract until 2014-15
– Roman Polak: 28 years old, under contract until 2015-16
– Jay Bouwmeester: 30 years old, under contract until 2018-19 (NTC)
– Barret Jackman: 33 years old, under contract until 2014-15 (NTC)
– Jordan Leopold: 33 years old, under contract until 2014-15 (NTC)
– Carlo Colaiacovo: Free agent (UFA)
Colaiacovo won't be back; Leopold, Jackman, Bouwmeester and Pietrangelo can't be moved; and Polak could get a decent return in a trade, but not quite what the Blues need. That leaves one realistic option for GM Doug Armstrong.
While it's probably not something he wants to do, trading Kevin Shattenkirk could actually help the team. Yes he's young, and could still develop into something great, but Pietrangelo is already basically the same player and more.
But interested teams – contenders, especially – will only see a young defenseman with a lot of offensive upside who could make a huge difference. Plus, Shattenkirk could fetch a top six forward and a draft pick easily, which would add even more depth up front.
Depth wasn't exactly a weak point for the Blues this season, but adding another point-contributing forward will undoubtedly take some pressure off of the defense to produce. With that pressure gone they can focus more on doing their job: playing defense.
Trading away Shattenkirk would leave the team with six defensemen, which isn't bad, but there's always room for depth. If they do seek out a free agent, one name that could draw plenty of interest from the Blues is Kyle Quincey.
He's young (only 28), plays big minutes (he averaged over 20 minutes per game this season) and can play on special teams (he averaged 2:26 short-handed ice time per game). He could play as a reliable fifth defenseman or slide into a top-four role if needed.
Besides Quincey, however, there are very few potential suitors for the Blues. Matt Niskanen has played himself into a bigger role than the one he currently holds, and Andrei Markov, Dan Boyle and Kimmo Timonen are too old to have a significant impact.
So while the defense didn't perform all too badly this season, there are definitely options out there to improve. They may not need to make changes, but they sure wouldn't hurt, either.