Ok, ladies and gents, honesty hour; I'm tweakin' on bastardized Cuban Coffee (let's just say that la cafetera smells more like Vicky Bakery than a Starbucks) and there's NO TELLING when it's gonna wear off. I've got roughly an hour and a half before I crash harder than the NHRA, so I better get to steppin'.
With more holes in their big league roster than Camp Green Lake, the Florida Panthers are in desperate search for their treasure chest, bequeathed by an ancient ancestor who's last name is a mirror image of their first (Levap? IS THAT REALLY YOU?). Plunging into an offseason with the equivalent of a blank check for the first time since, well, forever, General Manager Dale Tallon has expressed a desire to add a handful of veteran defensemen, players with a proven track record that can step in and contribute to a team that finished 29th in Average Goals Against per Game. With great power, however, comes great responsibility; in a UFA defensive class headlined by mellowing veteran Brooks Orpik and populated with a smorgasbord of mid-to-low pairing talent, will Tallon throw Vinnie Viola's hard-earned cash around like Oprah does Pontiac G6's?
Though any signing-short of bringing back Filip Kuba-would surely benefit the blueline, the club's chief architect could turn to a familiar strength in the quest to replenish the back-line and restock the farm system cupboards. A mere month away, the Draft offers much the same promise as a volatile stock-a particular asset, one that headlines your portfolio, could plummet to a penny's worth in the blink of an eye. Can you slip the SEC, and screw the market with an insider's information? That's the name of the game. Stars are picked early-dynasties are built on the second day. Here are two prospects (one North American, one European), considered mid-round material by NHL's Central Scouting, that may prove to be steals in the not-so-distant future.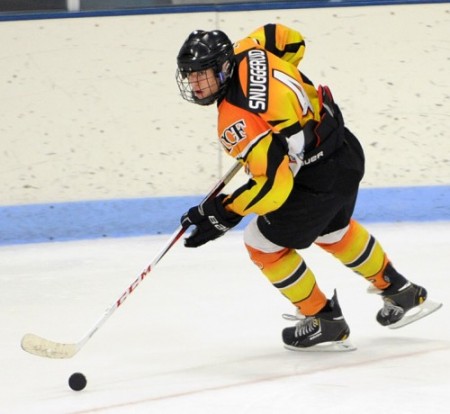 Luc Snuggerud

5'11″/165 lbs.
Muskegon (USHL)
Final Rank-42
Brian Campbell has performed admirably ever since he first donned a Panthers sweater; the team's only veritable minute-muncher, Soupy-when hot-has a mean offensive streak about him. The smooth skating defenseman quarterbacked the power play through its peaks and valleys, and proved pivotal in the squad's miracle 2011-2012 playoff berth. Time, however, proves to be a cruel mistress; the offensive-minded rearguard turned 35 last week, and one can't help but wonder if his best days have finally passed him. If Tallon keeps the first pick, and in turn selects Barrie Colts' stud blueliner Aaron Ekblad, the head honcho may turn to addressing his verbalized need of a scoring winger in mid-to-late rounds. If, however, he successfully shops and sells the selection, the inverse stands true.
Minnesota native Luc Snuggerud provides a potential solution to this latter conundrum. A product of the same program that spawned Chicago Blackhawk and 2009 Mr. Hockey Award winner Nick Leddy, the senior defenseman for Eden Prairie High School presents tangible value as a pure offensive defenseman. Recently nominated for this season's issuance of the honor, the diminutive skater also added the 2014 Reed Larson award to his trophy case, awarded annually to the top senior defenseman in the state. One look at the stats, and it's easy to see why-averaging 1.10 points per game through his entire scholastic career, the numbers validate his standing as the second-highest ranked high school prospect on Central Scouting's final list. If he can generate back-end production at even half of that rate and add some muscle to his frame, Snuggerud may find himself patrolling a professional blue-line sooner rather than later.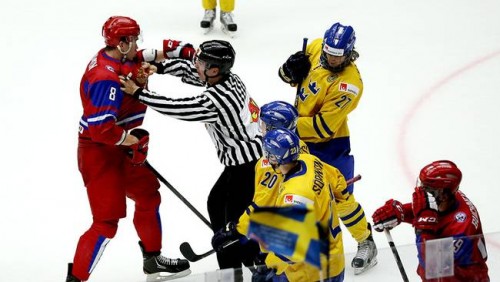 Nikita Tryamkin
6'6″/220 lbs.
Yekaterinburg (KHL)
Final Rank-65
A veteran of two partial KHL seasons and a World Junior Champioships, Tryamkin provides the thunder to Snuggerud's lightning. The bake to his shake. The Iron Curtain to his Berlin Airlift (I DON'T think that one worked quite as well as I had envisioned). Hulking in size for a 19-year old, the Russian giant possesses a frame more thickly built than Erik Gudbranson's, comparing favorably to the former third-overall pick. While he hasn't quite earned the accolades that his American counterpart, what Tryamkin lacks in individual accolades, he compensates for with experience; coming at a premium, the ability to handle and effectively compete against athletes multiple years your elder-even in an inferior professional league-proves invaluable (how about that Sasha Barkov kid?). His KHL stats don't show the play of a rookie defenseman stranded in an offensively-minded league; as an 18-year old, Tryamkin contributed three goals and an assist through 32 games, turning in a respectable minus-four rating (granted the statistic is flawed, but taking the result with a grain of salt, it's rather impressive). A 45-game sophomore campaign saw him elevate that rating to a plus-two, plying his trade on a middling Avtomobilist Yekaterinburg squad.
While his point totals don't strike fear and inspire awe, the European skater brings a solid presence in his own zone; should the Panthers take a flier out on the player, he looks to play a pivotal role in the future defensive picture. Quality stay-at-home defensemen arrive at a premium-if Tryamkin continues to develop, he may provide a homegrown solution in the struggle to protect Roberto Luongo's crease.
Oh no…the crash…IT'S COMI—