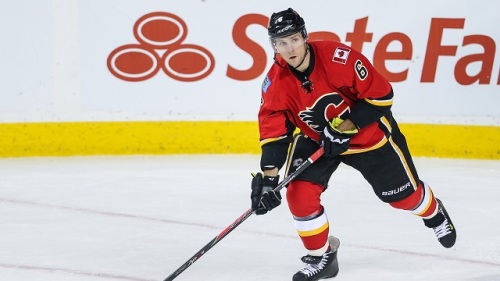 When the Flames signed Dennis Wideman to a five year deal in 2012-13 they expected him to provide some stability and leadership on the back end and chip in offensively as well.
Through the first two years of that contract, though, it wouldn't be a stretch to say Wideman didn't live up to expectations. In those two seasons he played only a combined 92 games (that includes a lockout shortened season), registering 43 points in that span.
It was his execution that failed him in 2012-13: the 39 points he was on pace for would have been a seven point drop off from the previous season – and his lowest total since the 30 points he had in 2009-10. Health was what held him back last season, though, missing 36 games because of injury (the upside was he nearly matched his 2012-13 point total in the same number of games).
But this season has been a different story altogether. Through 28 games he has 17 points, including 10 goals – tied with Sean Monahan for second on the team and one behind Jiri Hudler – which are three goals shy of his career high for a season. Also a positive sign is the fact he has missed only one game, which, along with his current point total, puts him on pace for 49 points.
Not only has he been in the lineup more often this year – and producing at a better rate – but his resurgence has been instrumental to the team's success. He's top three on the team – behind Mark Giordano and TJ Brodie – in minutes per game, and his six powerplay points (third on the team) are a big part of the reason Calgary has the ninth best power play efficiency in the NHL.
Wideman's success has also come in a season when, as a unit, Calgary's defence has improved significantly. Four of the seven defencemen to dress this season have at least 10 points – two have over 20 – all contributing to a league-best 84 points from defencemen. So dominant have they been that the next closest team in scoring from the blue line is the New York Islanders who have gotten 62 points from their blueliners (as of Dec. 11).
He may not be getting much recognition for his efforts, but there's no doubting how important Wideman's play has been to the Flames' success thus far. Keeping up their unprecedented run won't hinge on whether or not Wideman can continue to produce – the rest of the lineup can pick up the slack – but his production will make it easier to stay in the playoff hunt.