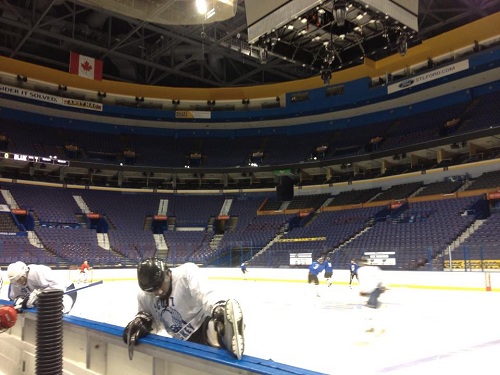 While the NHL is still under a frustrating lockout, there is still hockey being played at the Scottrade Center in St. Louis. Although the players on the ice aren't wearing the Blues' sweaters, the jerseys flashing down both ends of the ice are, in fact, blue.
The Scottrade Center is playing host to a league that bears a similar name. The Scott Hockey League is an organized adult men's league originally based out of U.S. Ice Sports Complex in Fairview Heights, Illinois. The Southern Illinois league was founded to provide military personnel of Scott Air Force Base a league to enjoy the game.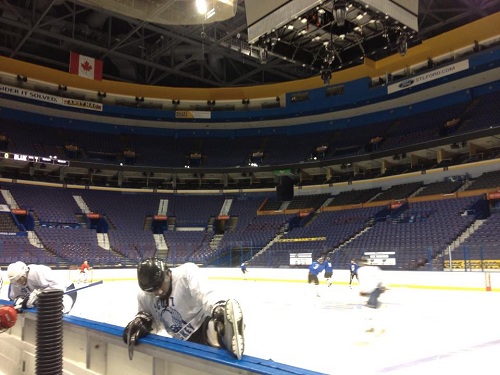 A few months back, the U.S. Ice Sports Complex suffered structural damage as a mine under the building collapsed, forcing the SHL to undergo its own unplanned 'lockout.' The building itself became structurally unsound and all leagues and programs originally held in Fairview Heights had to be moved.
The administrators at the Scottrade Center graciously opened their doors and offered to host the programs on their surface. The directors of the SHL worked with the Scottrade Center administrators and organized a modified schedule that would allow SHL players to play in a shortened season, but on NHL ice.
The SHL directors and players are all grateful for the opportunity, as a stoppage in play would have generated frustration and a missed season, much like the NHL has for its players. The move may have been a life-saving one, as the SHL has been growing steadily and a skipped season, or several, may have caused the loss of players to other regional leagues. Another mirror of the NHL.
The SHL expanded to seven teams with rosters filled with current and former military personnel, as well as civilians. The league is so popular that it frequently has to turn players away.
But the players who are in the league play for the passion of the game, a theme that isn't uncommon in adult leagues throughout the country. But for the SHL players, this season is particularly bittersweet. The sting of no NHL hockey hits everyone, but the fun of skating at the Scottrade Center is a unique and rewarding experience.
Many fans believe the NHL season has been lost. Just a short time ago, SHL players felt the same way about their weekly recreational game. But with a determined pursuit by SHL directors and the generosity of both the Scottrade Center and the St. Louis Blues organization to organized hockey at all levels, at least one hockey season was saved.