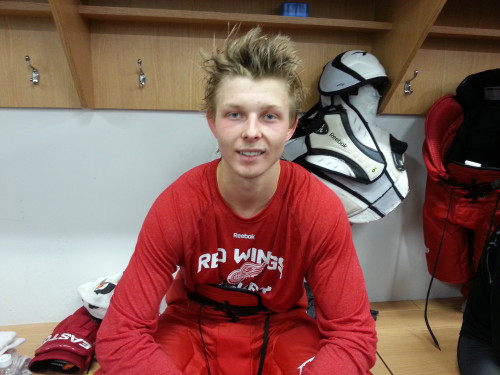 I had the chance to talk with 2014 draft pick Christoffer Ehn at this summer's prospect development camp in Traverse City. He spoke English very well, and gave really insightful answers. He also helped clear any confusion about the pronunciation of his last name (he told me it's pronounced Eee-en).
This interview took place on July 5th (Day 2 of the camp)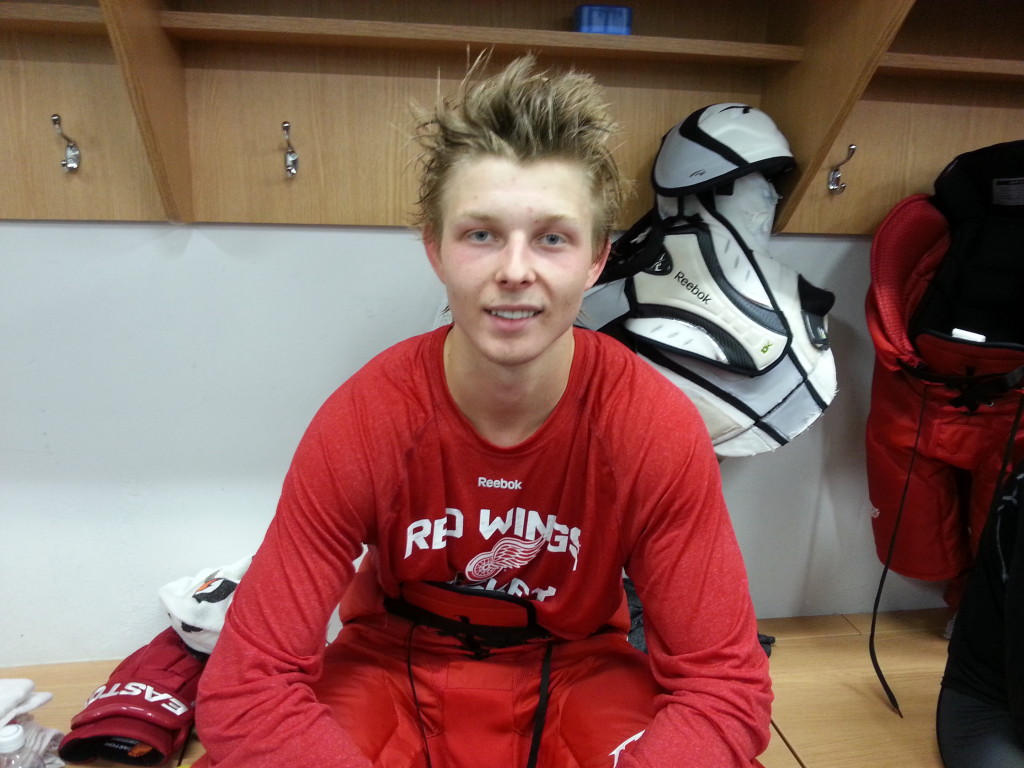 HOHM: "What were your thoughts being drafted by Detroit?"
Ehn: "It's just an amazing feeling. It's been my favorite team in the NHL since I was a small kid, you know, with all the Swedes and the history and everything. And it seems like a very good organization to come to, and I'm excited."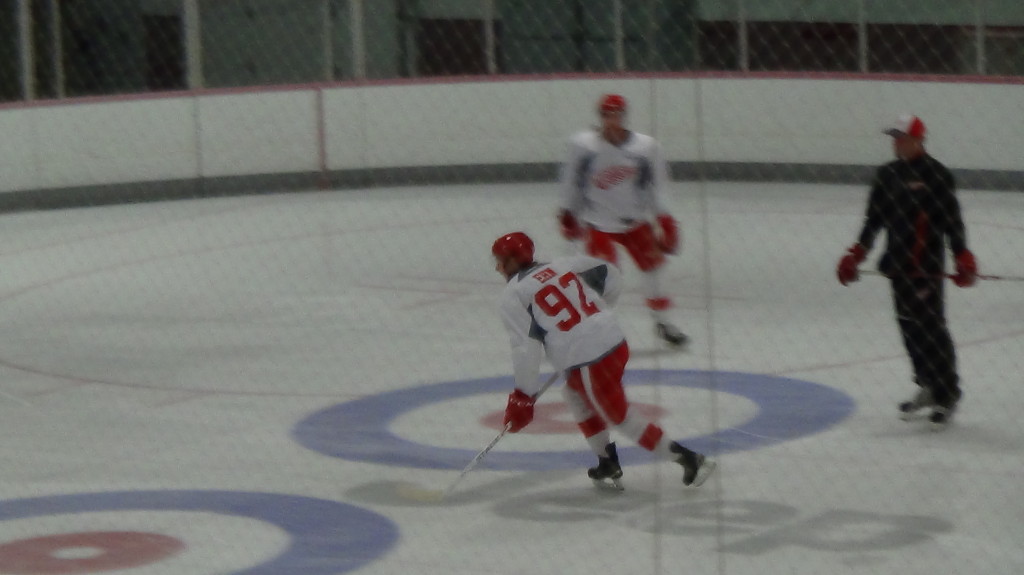 HOHM: "What did you think about the first day of camp?"
Ehn: "(Laughs) a little bit tired, had a long trip yesterday. But it's good to get the legs moving, and everything feels good so far."
HOHM: "Describe your game and the style of hockey you like to play"
Ehn: "I'm kind of a two-way centerman. Some offensive abilities as well as defensive, so just trying to make my teammates around me better."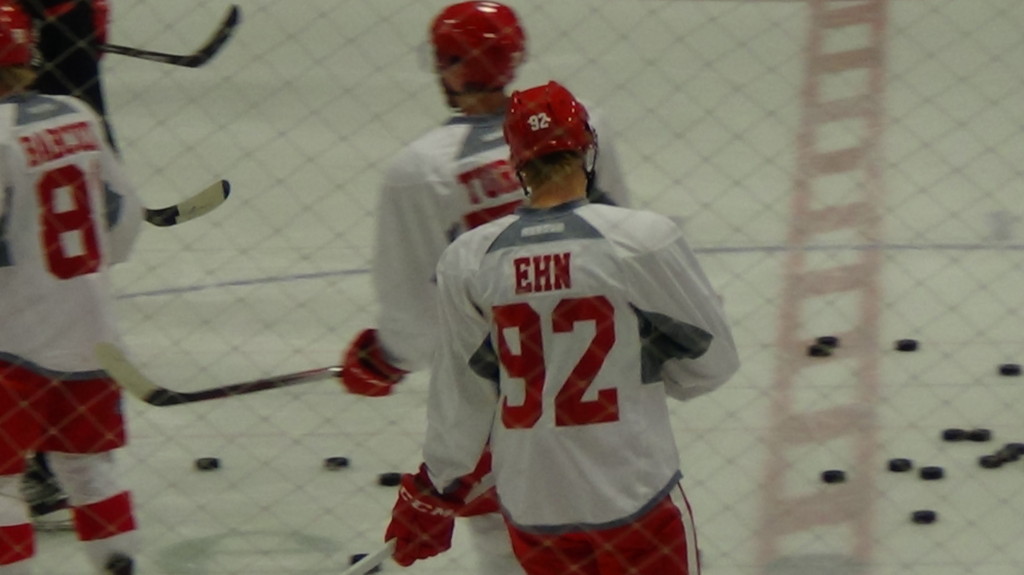 HOHM: "Is there an NHL player that you like to model your game from?"
Ehn: "Yeah, I would compare my game maybe to Marcus Kruger of the Chicago Blackhawks. Role models of mine are like Henrik Zetterberg and Pavel Datsyuk, who know how to play the game at both ends."
HOHM: "What's your timetable for playing hockey down the road?"
Ehn: "My goal this season is to take a spot on the senior team back home in Frolunda. So, you know, get a contract with the senior team and get some experience. In a couple of years, trying to go through [Detroit's] farm system."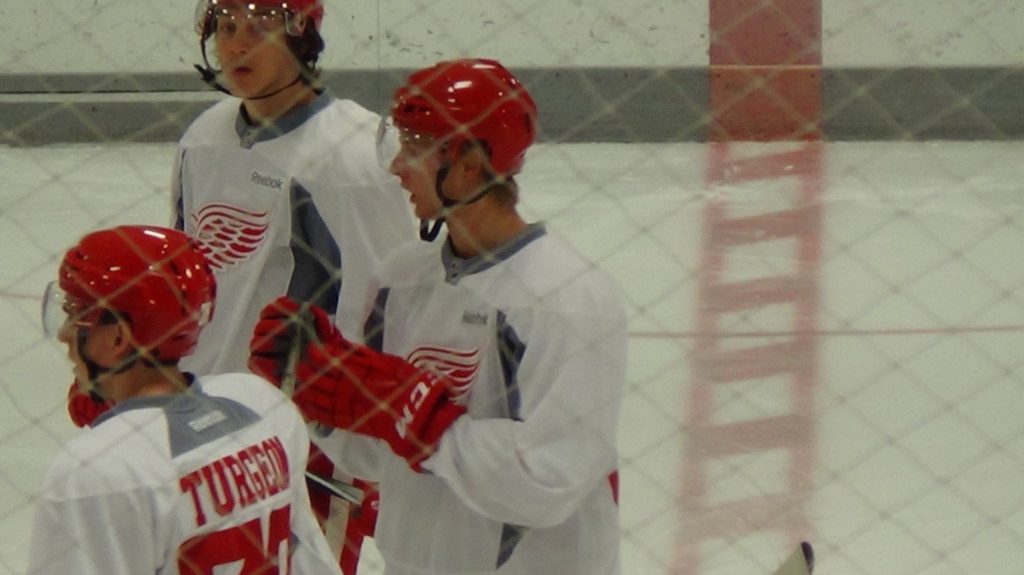 HOHM: "What were your feelings coming into this camp?"
Ehn: "Both nervous and excited. I think most of the [nervousness] today. You just kind of let go when we're finally on the ice. But I'm really excited."
HOHM: "Talk about the pace of these drills."
Ehn: "It's kind of different from the drills in Sweden. You know, it's much more with your feet. You have to always be prepared because the ice surface is smaller. You know, you just got to be ready every time, and try to make the best of it as possible."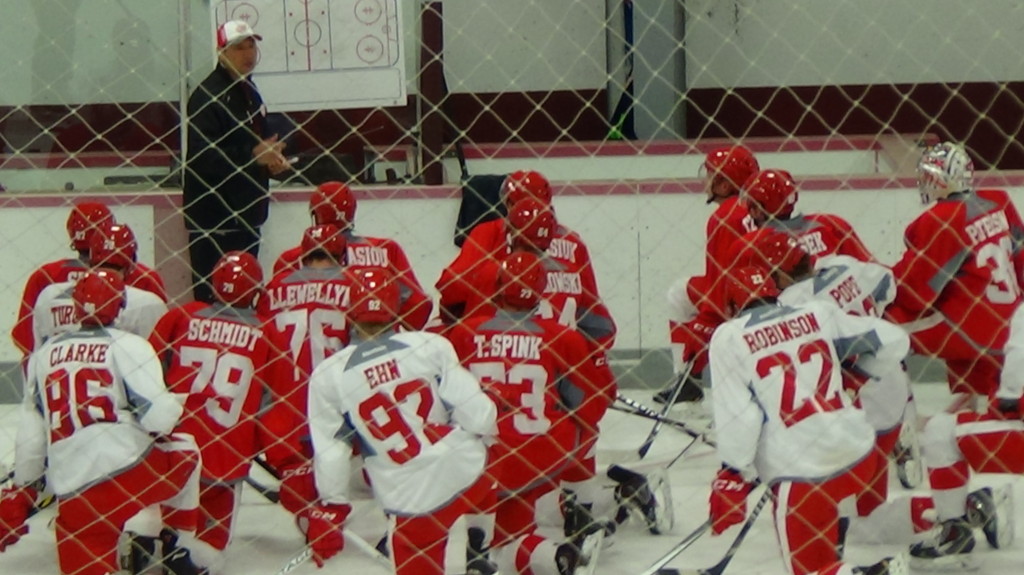 HOHM: "What's the biggest difference between the North American and European styles of play?"
Ehn: "The decisions [here] have to be much quicker. The pace is much higher, and there are more physical plays, so you have to know where you should go take the puck, you know, one step ahead.
I also spoke briefly with Christoff after Day 2's scrimmage (Saturday, July 5)
HOHM: "What did you think of the pace out there, in an actual game situation?"
Ehn: "Yeah, it's high [paced]. It's really (laughs)…You're not used to it back in Sweden. You know, you've got the bigger ice surface, and more time and space. The play is much more physical here, so you really have to think one or two steps ahead."
HOHM: "Is it hard to go out there and…did you know who you were on a line with before…"
Ehn: "No (laughs). Just before we got on the ice, we got to know the lines. You just have to communicate lots on the ice to make it easier on each other, because everyone is used to playing in different systems."
Be sure to check out my other interviews as well:
Follow me on Twitter @yungspork