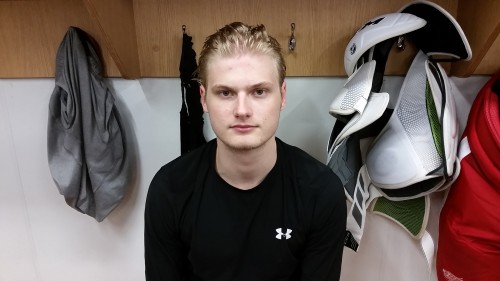 I spoke with forward Adam Marsh, recently drafted by the Detroit Red Wings in the 7th round, 200th overall. This interview was conducted on July 5th.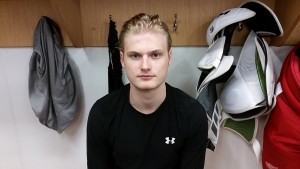 What are your first impressions of the camp now in the third day?
I like it a lot. The pace of the practices and the game was really good and there's a lot of skill here. The skates have all been good. We're doing a lot of skill work, which is good too.
What did you think of the scrimmage [Saturday]? What you expected or a little bit more intense?
I mean, I expected it to be a fast-paced game. None of us have really played together, so it's not like it's going to be a very organized game. But there was a lot of skill out there, a lot of great plays and I thought overall the scrimmage was great.
What were your thoughts about being drafted by Detroit?
I was very excited. I mean, I've heard a lot of great things about the organization and once I got picked by them I was very excited.
Describe your game, overall.
Just a fast, pretty skilled player, heavy shot. I also have a pretty gritty game too.
You played for Saint John's last year, your first year in the QMJHL.
Yeah, it was my first year in the Quebec League. I'm going back there next year. Our team is going to be pretty strong.
What role did you play on the team last season?
Probably a top-six forward, more of a goal-scorer. I didn't play much on the penalty kill last year. We had a great group of guys that were on the kill so I was mostly just on the power play and stuff like that.
The QMJHL is a really skilled league, is that different to what you've played prior to that?
I think I was ready for the step up. I definitely got the chance to play with good players there so that helped. Overall I think I had a pretty good year.
If you had to compare yourself to an NHL player, who would that be?
I would say a player like Jeff Carter, big winger with a heavy shot.
Who did you watch growing up? / Who influenced you to start playing hockey?
My dad was a hockey player so he just put me on skates when I was young and I just went from there.
You had two goals in the scrimmage, is it hard to develop any chemistry with these players whom you haven't known for that long?
I mean, chemistry here I don't think is much of a thing. Nobody really knows each other that well, no one's played together for that long. But the skillset of everyone is very high. So, making the skill plays with players here is definitely not that hard.
Talk about the off-ice stuff, like the nutrition, social media, all these different mini-seminars that you've had.
Yeah, the nutrition, how I eat and treat your body, and the working out, you just have to be consistent with your workouts and what you're eating, so you can gain weight and be bigger.
What do you think you need to work on most in your game and what do you hope to take away from this camp?
Definitely my defensive play and my work down low in the corners and stuff like that. And then a lot of the off-ice stuff is something I've been watching too.
What are your goals going into next season with Saint John's?
I just want to have a good year offensively but I also want to be great on defense, be on the penalty kill a little bit and just round up my game.
Check out my other prospect interviews in the links below:
Follow me on Twitter @KevinSporkaHOHM
Love Reading About Hockey?

Subscribe to keep up-to-date with the latest and most interesting hockey news!
| | |
| --- | --- |
| | We hate spam just as much as you |