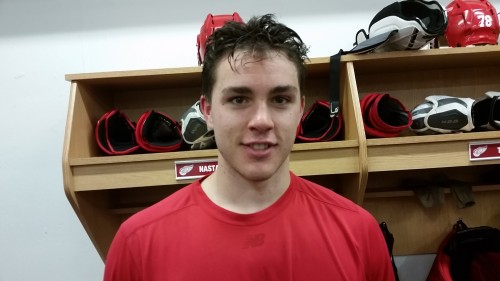 I spoke with 2013 second round draft pick Zach Nastasiuk at the Red Wings' annual prospect development camp in Traverse City, Michigan. This interview took place on July 5.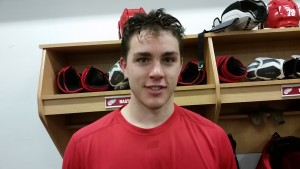 Obviously last year, a great season with Owen Sound, 77 points, just describe your time with the team last year?
Yeah, it was really good. My fourth year there with the same coaching staff. It's a lot easier going back your fourth year (laughs). I was playing with some good players too. I can't thank the organization and coaching staff enough to be able to get the opportunity to succeed. Just trying to take the ball and run with it really.
You had a great opportunity with the Griffins to play, at least a little bit, in the playoffs. What was it like to be in a professional playoffs?
Once again, tremendous opportunity with what Blash was able to do. You learn a lot from not just him but the older guys there and the players there. You've got to take in as much as you can I think and take it to the summer with you, and take it to these camps, and you know, take the next step as a human and a player.
Who were your hockey influences growing up?
Number one was my dad. You know, him being a pro athlete, and coming to these camps, and going through the draft and everything too. It helps me a lot in preparation and being able to deal with adversities and stuff like that, being able to deal with criticism. For sure, number one. He's helped me a lot. Without him I don't know if I'd be here (laughs).
Any player in particular that you really liked to watch growing up?
Joe Sakic and Mats Sundin
Who would you compare your style to, past or present, who best fits your style of hockey?
I guess I'd say like Jordan Staal, maybe a little something like that.
Favorite hockey memory throughout your life?
For sure, obviously being drafted here, a dream come true, and probably winning a gold medal with Team Canada U18, that's obviously something that I won't forget too.
Is there anything new that you have learned or can take away, or is it a lot of the same in your third camp?
Consistency really. You know, you can come here and do it for a week, but at the end of the day you've got to do it 365 days a year and I think that's what you've got to really understand.
What do you think needs the most improvement in your game?
For sure skating. I know I work on it all the time. I think I need to get stronger too, and quicker, work on my shot for sure. I want to show that I want to be a leader here. [Since] my first development camp, it's a little more comfortable here. So I just want to do the best I can here.
What are your goals going into next season?
Number one is to make Grand Rapids, and basically go from there. Once I get there, work as hard as I can just to stay and to keep growing.
Check out my other prospect interviews in the links below:
Follow me on Twitter @KevinSporkaHOHM
Love Reading About Hockey?

Subscribe to keep up-to-date with the latest and most interesting hockey news!
| | |
| --- | --- |
| | We hate spam just as much as you |