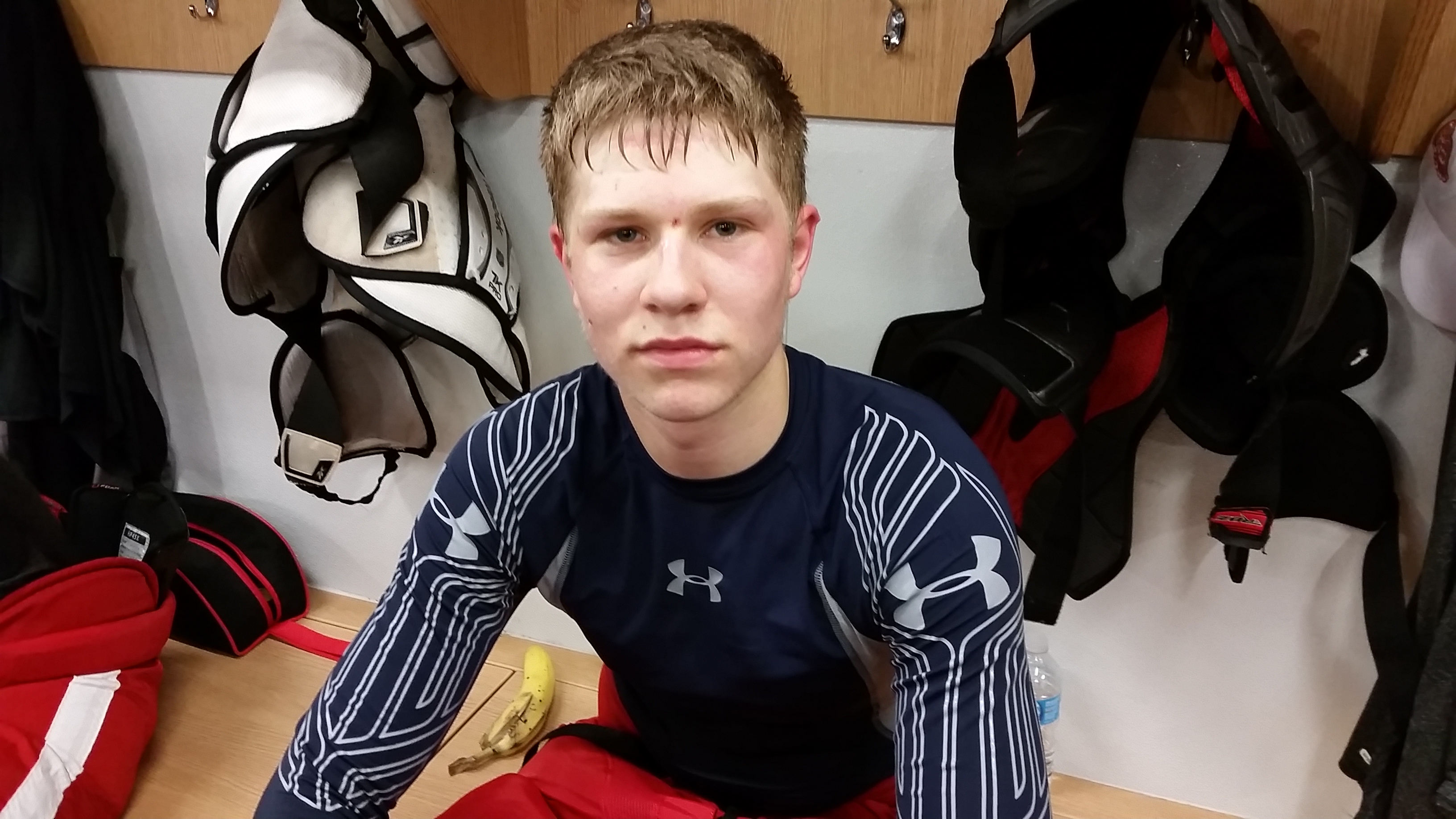 Defenseman Dennis Cholowski was drafted in the first round of the 2016 NHL Entry Draft by the Detroit Red Wings (20th overall).
Last season he scored 40 points in 50 games for the Chilliwack Chiefs of the British Columbia Hockey League. In the playoffs he recorded 15 points in 20 games.
He will attend St. Cloud State University, where fellow Red Wings defensive draft pick Nick Jensen attended.
I spoke with Dennis during the team's annual Prospect Development Camp in Traverse City.
This interview took place on July 8th, 2016.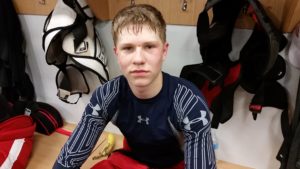 Talk about your emotions being drafted by Detroit.
Obviously it's one of the best organizations in the league for sure, incredibly honored to be their first round pick, and just really excited to be here right now.
What was the BCHL like for you?
It was a great development league for me, being drafted pretty late in the WHL, that league kind of presented itself to me. Worked out great for me. Now I get to go play college. I'm very happy.
Talk about the role that you played on your team last year.
My role was kind of a top defenseman, play in every situation. Just be out there whenever I can and try to help my team whatever way, power play, penalty kill.
What made you decide on St. Cloud State?
I actually got to visit them in my sixteen-year old season and I got to watch them play a game against the University of Minnesota. Obviously it was a great game, the fans were crazy. They have a big rink which I liked as well. Yeah that game kind of just hooked me in right there.
What are your thoughts on your first development camp so far?
Obviously everybody here is a very good player. I'm having a lot of fun skating with these guys. Just try to go out and be myself, and I'll be fine.
What's it like having these former players (Jiri Fischer, Kris Draper etc.) that are here to guide you along?
Yeah, they're huge inspirations to all of us players. It's a great time having them here and them guiding us through this camp and teaching us so many different things. I'm having a great time right now. It's an incredible honor to be here.
What made you want to get into hockey?
Actually, I have an older brother, and he was the one who actually had to pick a sport to play, and he picked hockey. I don't know why he picked hockey but he did, and I kind of just followed whatever he did, and that's how I got into it and here I am now.
Who are some of your inspirations, either in your personal life or the hockey world?
I'd say Scott Niedermayer is my all-time favorite defenseman, as well as Nick Lidstrom. They're two of the all-time greats. They really inspire me for sure. Such great people and great players.
What are some of your strengths?
I'd say skating is my number one strength, having the ability to join the rush and create offense, make a good breakout pass out of my own zone tape-to-tape, as well as having good hockey sense and the ability to run a power play as well.
Is there a player in today's NHL that you look up to in the last couple of years?
I'd say someone like a Duncan Keith or a Drew Doughty. Those guys are great players, obviously won multiple Stanley Cups. I'd say I look up to them for sure.
Is there an NHL defenseman that you would compare your style in terms of how you play the game?
Scott Niedermayer, he would be the one. Just love the way he skates, the way he plays, and just so smooth and calm out there. So that's who I model my game after.
What do you think you need to work on the most in your game during the off-season?
Right now I'd say strength, just aggressiveness on the ice, engaging in battles more. I think playing college hockey will help with that, getting bigger and stronger. Obviously you get to be in the weight room a lot more.
Besides the on-ice activities, is there anything you think you can take away from this camp (off-ice seminars, classes etc.)?
Yeah, just learning about nutrition, learning how to handle yourself, be by yourself, that kind of thing, and living on your own. They've done a great job with that and helped me out a lot for sure.
What's been your favorite hockey memory, besides of course being drafted?
Just kind of this past season. Just watching…my ranking was pretty low at the start of the season and I just kind of kept climbing up as the season went on, and after about Christmas time I think I just climbed really fast, and it was really exciting for me and my family. I guess that kind of ties in with the draft. That was a pretty exciting time for me.
Be sure to check out my other prospect interviews in the links below:
Follow me on Twitter @KevinSporkaHOHM
Love Reading About Hockey?

Subscribe to keep up-to-date with the latest and most interesting hockey news!
| | |
| --- | --- |
| | We hate spam just as much as you |