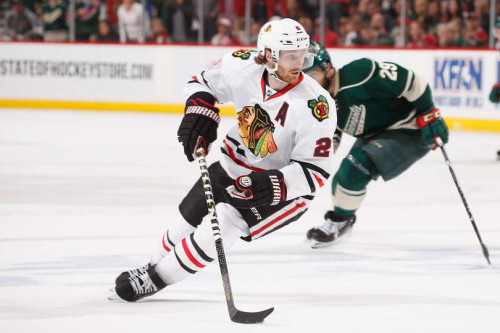 Blackhawks jerseys are abundant in the Chicago area. They are equally recognizable and just as important as the logo on the front, is the name and number on the back. Numbers like 19, 88, 9, 35, 21, and 18 are all easily identifiable even to the casual Chicago hockey fan. But the number 2 is just as important and is, without question, making an impact on Blackhawk hockey.
Think about this: 2 Stanley Cup rings, 2 Olympic Gold Medals, 2 Norris Trophies, 2 NHL First All-Star Team honors, all for….Number 2.
Duncan Keith was drafted by the Blackhawks in 2002, though wouldn't suit up for Chicago until the 2005-2006 season after spending some time in the Western Hockey League and at Michigan State. Keith also spent two seasons with the Norfolk Admirals of the American Hockey League.
Though he played 81 games in his first NHL season, he started shaky with a minus-11 rating and only 21 points. The next season he was at minus-0 and 31 points. The season after that, Keith was plus-30 and 32 points in 82 games.
In total, here are Keith's statistics as they stand now:
Regular Season Stats:

686 Games
65 Goals
305 Assists

Playoff Stats:

98 Games
12 Goals
42 Assists
Keith has been named an NHL First Team All-Star for the second time. Only three other Blackhawk defenseman have reached that milestone: Earl Siebert, Pierre Pilote, and Chris Chelios, all of which are in the Hockey Hall of Fame.
Recently, Keith has been named Norris Trophy winner for the second time in his career, as the NHL's top defenseman.
Keith is also the second defenseman in NHL history to have won the Norris Trophy twice and are not currently in the Hall of Fame. Nicklas Lindstrom shares that spot with Keith, and Lindstrom is up for Hall induction next year.
His Norris wins and high level of play come largely from the amount of time he spends on the ice. Keith regularly averages over 20 minutes of ice-time per game, and often approaches the 30 minute mark. To be clear, an NHL period has 20 minutes in it. Meaning Keith, on a nightly basis, plays over an entire period of NHL hockey and is still one of the best players on the ice.
Duncan Keith is already a solid lock for the NHL Hall of Fame, and will be around for a while. In 2010, Keith signed a 13-year contract with Chicago putting him through the 2022-2023 season.
With no hint of slowing down in sight, in fact Chicago is already a favorite to win another Stanley Cup next season, Keith is making a case for Hall induction the first year he'll be eligible.
Chicago has six numbers hanging in the rafters at the United Center, including numbers 1 and 3. In the future, don't be surprised if the Blackhawks fill in the gap, and add number 2.