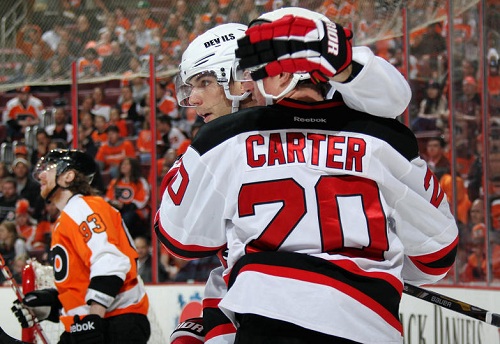 Great news! The Devils stopped their 10-game losing streak last night with a 3-0 win over the Philadelphia Flyers. Ryan Carter opened up the scoring in the second period when his shot found a way through Ilya Bryzgalov's five hole, marking the first Devils goal since their 5-4 loss to the Boston Bruins on April 10.
Bad news: there now are just five games left this season and New Jersey is six points out of eight in the Eastern Conference. Basically, New Jersey has to win out and the New York Rangers would have to lose most if not all of their games for the Devils to make the playoffs.
Chances of that happening are pretty slim. One win does not mean much more than just that for New Jersey, as they face the Florida Panthers, Rangers twice (both at Madison Square Garden, I'll add), Montreal Canadiens, and Pittsburgh Penguins in their remaining match-ups.
New Jersey gets fired up for games against their cross-Hudson rival – much like they do for games against the Flyers – so while both the Rangers and the Devils are fighting to gain and hang on to a playoff spot, I'm more concerned with the other teams the Devils face.
Saturday marks the third time the Devils and Panthers face each other; New Jersey won the first match-up but lost the more recent one, 3-2, in overtime after the Panthers tied the game with 27 seconds left in the third period. The loss came on the back end of a three-game road trip for the Devils, during which they collected just three out of a possible six points.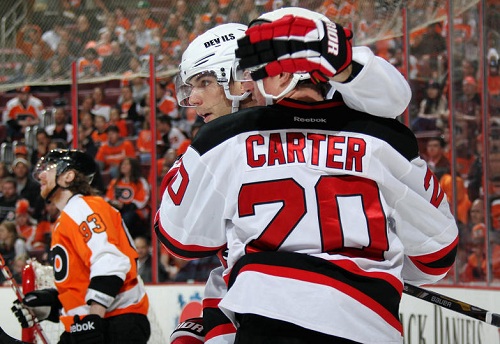 Tuesday's game against the Canadiens also is the third of the season, and the Devils have lost twice to the no. 2 team in the conference. Then, Thursday has the Devils hosting the Penguins in the fourth match-up of the season. New Jersey has fared better against Pittsburgh this season, losing the first game, but then winning a rare home-and-home on consecutive days. The Devils outscored the Pens in those two games by a 6-2 margin, but they also weren't decimated by injuries at that point of the season.
Happy: Jacob Josefson was back on the ice for New Jersey for the first time since April 7 – wearing the former jersey number of The Name That Shall Remain Unspoken, since Matt D'Agostini snagged no. 16 in his absence – and he contributed an assist to D'Ag's third period goal that put New Jersey ahead, 2-0.
Crappy: Anton Volchenkov has two more games remaining on his suspension after hitting the Bruins Brad Marchand in the head. Also, Bryce Salvador is still out with no clear indication if or when he will play again this season.