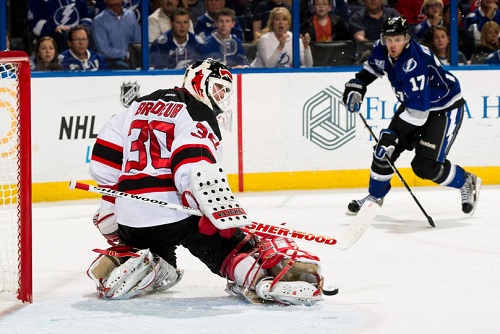 The Devils are 2-6 in shootouts this season, including a pithy 0-5 record on the road, but head coach Pete DeBoer insists that the team doesn't – and doesn't need to – practice this part of their game. They didn't practice last year, he has said, when they finished with a league-leading 12-4. May I remind you that that was when the Devils had the Player Who Shall Remain Unnamed and also when Ilya Kovalchuk had the ability to hit the broad side of a barn.
This year, however, Kovalchuck has scored only twice in six attempts – 0-for-3 at home and 2- for-3 on the road – and while his 33.3 shooting percentage is tied for the best on the team with Travis Zajac, that's not really saying too much considering he shot 78.6% (11- for-14) last season with seven game-deciding goals. Additionally, Patrik Elias has not been good on the shootout this year as he is 2- for-7 (28.6%); he has just a 39.3% career shooting percentage (22-for-56), as a side note.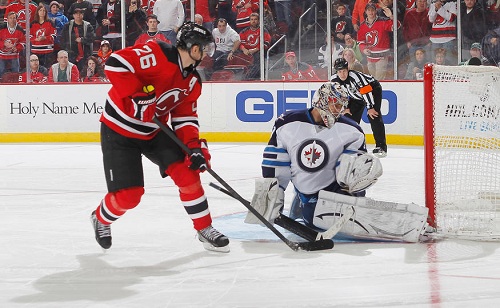 On the other end of the ice, Johan Hedberg holds a 2-3 record in the shootout this season with both of his wins earned at home. Even though Martin Brodeur missed 12 games, he has yet to win a shootout this season (0-3).
What all of this means, though, is that of a possible eight additional points the Devils could have earned by winning in the shootout this season, they have earned two. Two!
Now, Kovalchuck is on injured reserve for 2-4 weeks, Elias can't buy a shootout goal, and the Devils don't seem to be able to figure out what to do to win in extra frames.
It's not just that New Jersey isn't winning the shootouts, though, it's how they're losing them. The Devils look unsure, as if they have no idea how to beat the goalie in a one-on-one situation. They're missing wide, they're hitting the goalie in the chest, they're telegraphing any moves they do try.
Maybe it's time to start practicing the shootouts, especially if New Jersey insists on continuing to give up game-tying goals with just seconds left in the game.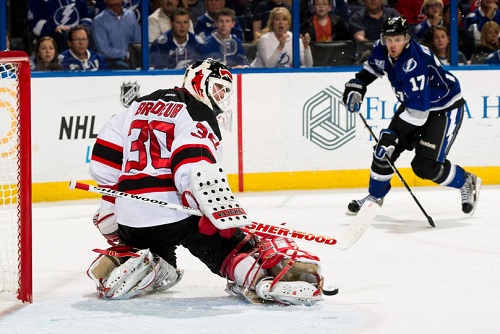 Happy: Mattias Tedenby played with the Albany Devils (AHL) last night in his first game back after taking a skate to his face, and he scored in the shootout even though Albany also apparently suffers from the inability to win a shootout. Reid Boucher, the scoring phenom with Sarnia (OHL) this season, played in his first game with Albany this season and recorded a goal and two assists.
Crappy: In case the above argument is not clear enough: New Jersey lost all three of their games this week in extra time: 3-2 in a shootout at the Ottawa Senators; 5-4 in a shootout at the Tampa Bay Lightning; and 3-2 in overtime at the Florida Panthers.