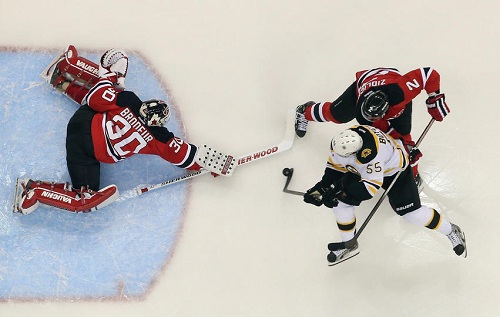 What defines "playing well?" Is it playing shut-down defense? Creating strong offensive pushes? Outhitting, outskating, outshooting?
I'd say that it's a combination of all of those things, not necessarily all at once, but none of those facets have helped the Devils win in the past three weeks.
New Jersey is 0-5-4 in its last nine games, the second worst stretch in team history. But it's not for a lack of effort, lately. I won't decry bad luck – bad luck is a loser's lament, after all – but the Devils just can't get a break.
They haven't scored a power play goal in the last 15 opportunities, but again, it's not entirely because of their inability to keep control of the puck (although, let's be honest, that definitely has something to do with it). The Devils have created their chances, but they haven't had anyone finish despite seeming to be in nearly the right place at the right time—deflections have gone just wide, shots ring just off the post (I really wish I had a stat tracker for this), or the puck hops over our guys' sticks as they shoot.
Of course, having a constantly rotating roster due to injury doesn't help New Jersey's case. In a shortened season, teams just don't have the luxury of time to figure out how the chemistry with consistently inconsistent lines; what do you do when there's no flow or groove to be found? It's no easy feat when your legendary goalie is out for 12 games and your leader in time on ice is out for nine and counting.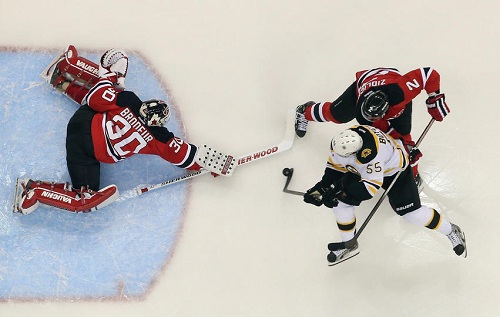 This past week saw a tremendous – and unexpected, quite frankly – outpouring of goals as the Devils came to life on Wednesday night after the Boston Bruins went up 4-0 early on in the second period. New Jersey came back, scoring three consecutive goals but Boston held on to win 5-4.
The Devils scored four goals in the four games prior to the game against Boston so to see them pull themselves up from such a deficit was encouraging; it also was the first time the Devils scored more than three goals in a regulation games since they topped the Carolina Hurricanes, 4-1, on March 21.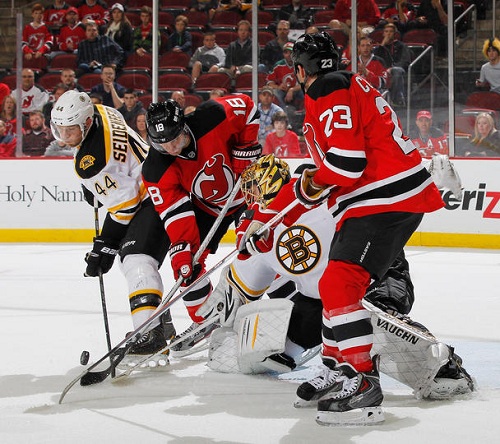 That being said, they still didn't come out on top, and encouraging play (good intentions?) only paves the road to an early offseason.
Would I say the Devils have been playing well during their current losing streak? Overall, yes. But playing well does not correlate with finding a way to win, as evidenced by the past three weeks. As New Jersey heads into the last seven games of the season, they have to figure out how to translate effort into positive results if they want to play in May.
Happy: Marty is still at win 666, which makes me laugh. Yep, consider this me grasping at straws for something to write here. Maybe this is some kind of curse.
Crappy: Bryce Salvador is day-to-day after taking a shot to the wrist from Boston Bruin Zdeno Chara on Wednesday, and Anton Volchenkov has been suspended for four games after hitting Bruin Brad Marchand in the head in the same game. Their absence led to Adam Larsson and Peter Harrold getting another chance to be on the ice on Friday against the Ottawa Senators, but also meant that Mark Fayne continued to be out there, too. In a related vein: Fayne barely played in the third on Friday, and the Devils held the Senators to just two shots during that period. Just sayin'.