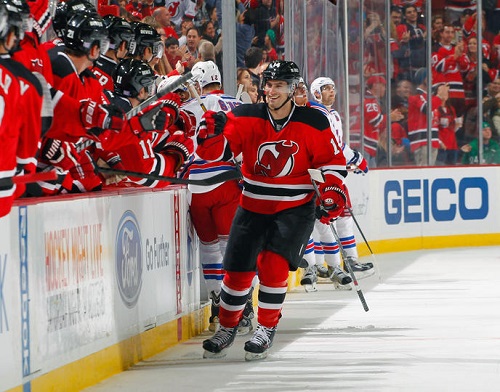 After starting the season with a seven-game losing streak, their worst start in franchise history, the Devils finally added one to the win column with a 4-0 victory over the New York Rangers on Saturday night at the Prudential Center.
It was an all-around great effort by the entire team: Cory Schneider notched his first shutout with New Jersey as he stopped all 22 of the Rangers shots; nine players recorded points, including another two assists apiece from defenseman Marek Zidlicky and forward Jaromir Jagr; four different forwards scored goals; and, the penalty kill was 2-for-2.
Zidlicky has a team-high seven points – all assists – with Jagr right behind him with five points – tied with forward Damien Brunner – on two goals and three assists. Brunner, who didn't dress due to upper body soreness, is one of New Jersey's top scorers, as he's netted three goals in seven games played; Michael Ryder scored his third goal of the season on the Devils' power play in the second period on Saturday.
In addition to Ryder, Andrei Loktionov scored his first goal of the season while Adam Henrique and Dainius Zubrus scored their second.
The Devils put a solid, well-played win in the books.
But, as I've said before, the stats don't tell the whole story. The Devils finally won a game, and they did it without two of their top goal-scorers in Brunner and Patrik Elias, which is an interesting side note. However, in the games that Brunner and Elias played in leading up to Saturday, the Devils showed signs of getting their act together even though the win column remained at zero. Elias was out due to flu-like symptoms, but once he and Brunner are back on the ice, I feel confident that the Devils will be okay. It's only eight games into the season, and while seven losses to start off with obviously is the opposite of good, the offensive production New Jersey has seen despite the end results is encouraging. There are five new forwards on the roster and it's natural for it to take some time to figure out the best combinations, the best chemistry.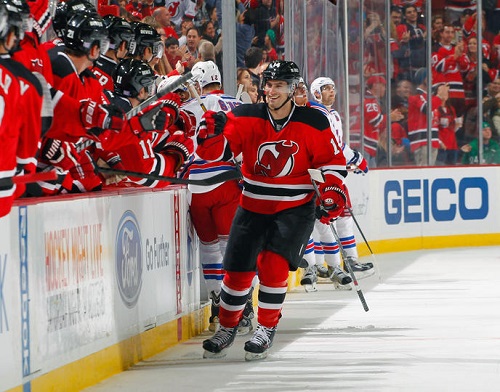 The biggest concern that I have at this point is not whether or not the Devils will have a hard time with their offense – as so many claimed during the offseason – but rather the goaltending. While I am unapologetic about defending Martin Brodeur as the greatest goalie ever to play, he has been bad thus far.
In the four games he's played, Brodeur has given up 14 goals on 104 shots for a save percentage of .865 and a goals against average of 3.40. Most recently, against the Senators in Ottawa on Thursday, Brodeur let in two fairly soft goals in the first seven minutes of the game, and another one in the second period; New Jersey was able to pull within a goal in the third period after consecutive goals by Travis Zajac and Steve Bernier, but then Brodeur allows Milan Michalek score about five minutes later, which completely deflates the momentum New Jersey had been building. I'll rarely blame a single player for a loss (or credit him entirely for a win), but Brodeur certainly made it tough for the Devils on Thursday.
Schneider, on the other hand, has been better, although he also started off slowly. He looked great in his shutout against the Rangers, but that was after he allowed eight goals on 109 shots (.927 save percentage; 1.99 goals against average).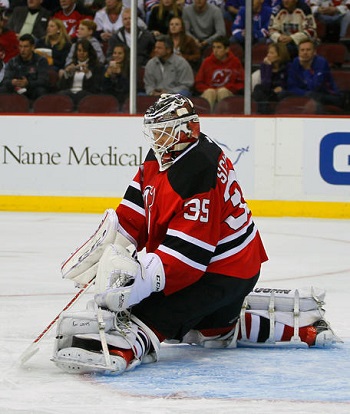 It's not clear to me what the strategy is moving forward, but Schneider has been the better goalie so far this season, not just stats-wise, but overall. I'm curious to see how this plays out given that Brodeur presumably knows what he has to do to get back on his game and he inevitably will do just that. The point of signing Schneider this summer, though, was to have a viable backup to Brodeur and while one game doesn't foretell an entire season, Brodeur has to step it up if he wants to be the Devils go-to goalie.
Ending a losing streak at the start of the season by way of Saturday's win is great, of course. But there's work to be done still to get the Devils fully back on track. They have three games this week, two of which are on the road, and I think what they do next will be a strong indicator of the character of this year's team.