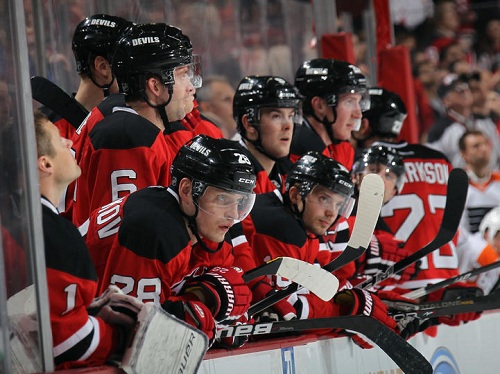 The Devils head to our nation's capital to face the Washington Capitals tonight for the first of two consecutive road match-ups, and they're doing it with yet another lineup change.
Ryan Carter did not travel with the team to Washington after suffering an upper body injury in Monday's 2-1 loss to the Ottawa Senators; he left that game in the second period after being sandwiched between Senators Dave Dziurzynski and Chris Neil. Thursday's game at Washington will be the first time that the Carter-Steve Bernier-Stephen Gionta line will be broken up, as Stefan Matteau fills in on the third line.
Everything is magnified in a shortened season so I'm trying not to be overly focused on this, but it does seem like a lot of roster changes in just 16 games. Getting so many new faces so frequently has contributed to a sense of being unpredictable; while the Devils haven't been playing badly, it has been hard to tell how the team will play on any given night. Last week alone the Devils looked hungover from back-to-back wins over the Penguins when they fell to the Hurricanes, 4-2, on Tuesday; they were solid in their 5-3 win over the Flyers on Friday; they were disorganized in their 5-1 loss to the Islanders; lastly, they gave up a one-goal lead in the third period against the Senators on President's Day, then both Ilya Kovalchuk and Patrik Elias missed the net in the shootout (giving me the crazy eyes). Granted, they had played three games in four days, including back-to-back divisional games, but it was a roller coaster week for the Devils.
Dainius Zubrus is out for several more weeks, so Alexei Ponikarovsky was brought back to New Jersey mid-last week – in a most unsurprising move by GM Lou Lamoriello, who loves resigning former Devils – and while he's not exactly a new face, his presence on the ice shakes things up even further. Now, Carter is out for at least two games although he's not going to be put on IR, but it will be exciting to see Matteau back on the ice. I'm interested to see how Andrei Loktionov plays in the next few games since I wasn't all that impressed with him on Monday.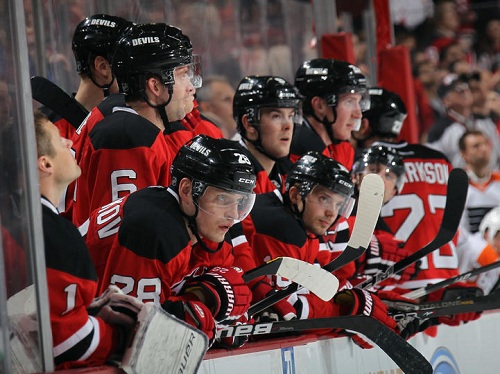 Here's to hoping that at some point in the very near future, New Jersey will get into a groove both with the guys they dress and the results said guys produce.
Happy: Ilya Kovalchuk has been playing really solid hockey lately, including a six-game point streak from Feb. 7-16 that saw him tally three goals and seven assists. Prior to that, he went five games without a point, so it was nice to see him turn up the heat after a long dry spell. I'd still like those goals and assists numbers to be switched, though.
Crappy: Mattias Tedenby, currently playing for the Albany Devils (AHL), suffered a skate-to-face cut from his right ear to his chin on Friday in a game against the Adirondack Phantoms. He is still in the hospital but all reports seem to indicate that he is/will be ok, which is excellent news.