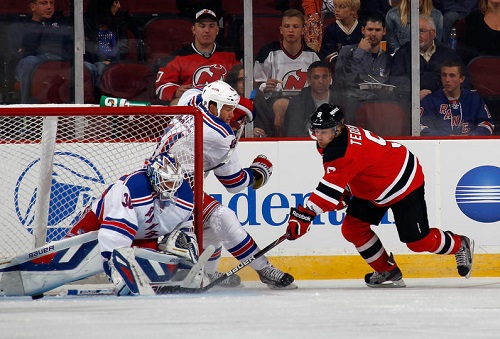 With under a week of training camp under their belts, and even less time on the ice together, the Devils won their first preseason game, 2-1, over the New York Rangers Monday night at the Prudential Center.
Right wing Mattias Tedenby opened the scoring for New Jersey midway through the first period with assists from Rostislav Olesz and Alexander Urbom. Tedenby was re-signed by the Devils in June after he played in only four games last season, in part due to a facial laceration from a skate he sustained while playing for the Albany Devils (AHL) in February.
"Scoring on [Rangers goalie Henrik] Lundqvist is a big thing. To start off with a goal and a win feels pretty good," Tedenby said.
Defenseman Eric Gelinas scored the eventual game-winning goal just 31 seconds into the third period with help from Peter Harrold and Adam Henrique.
"Steve [Bernier] screened the goalie pretty well and all I had to do was put it on net. I guess he never saw it coming. My job was pretty easy," Gelinas said. "It's good to show what I can do out there. I'm a shooting defenseman, and that's what I was trying to do tonight. I was trying to keep it simple and not to let myself get carried away, and I guess it worked out pretty well."
Head coach Pete DeBoer added, "I use the adage with the players, 'Do what you do best out there,' and I thought Gelly did what he did best out there tonight: he created offense with his shot, he was solid defensively, and he was dangerous on the offensive blue line."
The Rangers got on the scoreboard a few minutes after Gelinas's goal when Dominic Moore scored, but it was too little too late for New Jersey's cross-Hudson rivals, and the Devils came away with the win.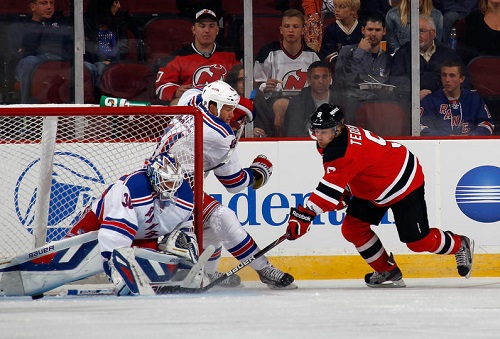 Cory Schneider started in net for the Devils and stopped all 22 shots he saw in two periods of play; Keith Kinkaid stopped 12 shots in the third period.
"It's always nice to get a little action, to make some saves. Winning never get old," Schneider said. "It is preseason, but I was playing one of the most spirited preseason games I've ever seen. Both teams had a lot of energy and were playing hard. I think there's stuff for me personally and as a group that we can improve upon but overall it was a good start."
DeBoer seemed to be pleased with the effort the Devils put forth, albeit tight-lipped about providing any sense of permanence one preseason game might provide. He spoke positively about Tedenby and Schneider, as well as New Jersey's newest addition, forward Damien Brunner. The Devils signed Brunner, a free agent who played in Switzerland for five years then with the Detroit Red Wings last season, to a pro tryout just a few hours before the puck dropped.
"I'm excited to see [Brunner], I guess he's going to practice with us tomorrow. I don't know a lot about him, obviously he was a name that came up over the summer in my conversations with [general manager] Lou [Lamoriello], I think it's great that we're going to get a chance to look at him," DeBoer said. "The book on him is he's very skilled, he's put up points at every level he's played at, and we can always use some of that."
I won't beat a dead horse by pointing out how much offensive production the Devils have lost in the past two offseasons, so let's just say: amen, brother.
Plus: Henrique, Bernier, and Anton Volchenkov were wearing the A on their jerseys last night.
Minus: It's still the preseason so anything could happen with regard to the roster. I'd like to see more of Reid Boucher, but not if he's not quite ready for the NHL yet. Jaromir Jagr is still "sore."