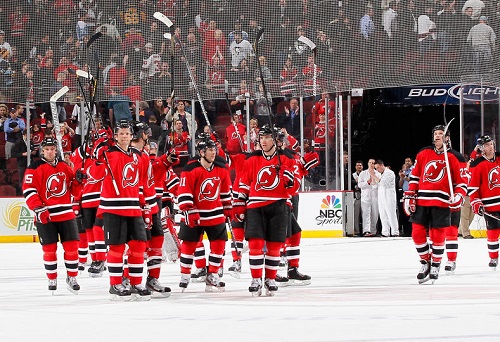 Today the New Jersey Devils announced that Josh Harris and David Blitzer, owners of the Philadelphia 76ers, purchased the team as well as the "long-term operating interest in the Prudential Center and related assets" from Jeff Vanderbeek after the NHL Board of Governors approved the deal on Wednesday.
Scott O'Neil, the Sixers CEO, will become the Devils CEO, too; O'Neil previously was the President of Madison Square Garden Sports.
The purchase of the Devils for $320 million is especially surprising considering Vanderbeek's debt woes – last week, Forbes estimated that tally at $230MM – but given Harris's prior success in turning a profit after purchasing the floundering Philadelphia 76ers, the Devils and their fans should be ecstatic that they now have owners with deep enough pockets to get them out of the red.
According to CSNPhilly.com, Harris bought the 76ers in 2011 "for a reported $287MM and as of January 2013 Forbes valued the Sixers at $418MM." This seems to bode well for the Devils in that Harris and his group have demonstrated that if they can turn a franchise that hadn't performed well games-wise into a profitable business, it should be a little bit easier to do the same with a franchise that has seen significantly more performance success over the past two decades.
With the ownership situation resolved, the number one priority for the franchise has to be re-signing restricted free agent Adam Henrique.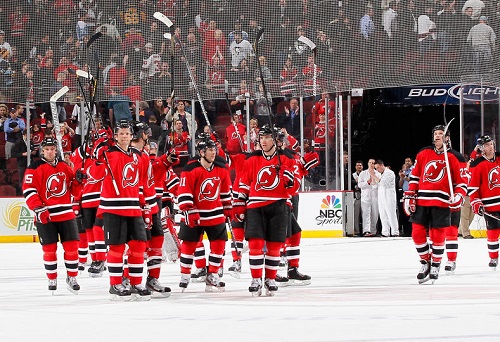 The financial situation that Vanderbeek created with the franchise must have contributed to The Player Who Shall Remain Unnamed, Ilya Kovalchuck, and David Clarkson departing over the past year-ish. Re-signing Henrique, one of the Devils most promising scoring threats, has to be top-of-mind and now top-of-pockets for Harris, Blitzer, et al.
O'Neil, Blitzer, and Devils GM Lou Lamoriello are all saying the right things in
the Devils official statement
, but the proof will be in the pudding. I won't speculate on what could happen, but I do think it's safe to say that this is a great day for Devils hockey, and for their home at the Prudential Center.
Lastly, all reports that I've seen have confirmed that the new owners plan to keep the Devils in New Jersey, so let's all heave a big sigh of relief there. Interestingly and unsurprisingly, though, there seemed to be some angst in Philly about whether or not the Sixers would relocate to New Jersey especially in light of the Nets relocating to Brooklyn last season thereby leaving The Rock devoid of an NBA franchise, but Harris allayed Philadelphians' fears by going on record to say, "The Sixers are staying in Philly."