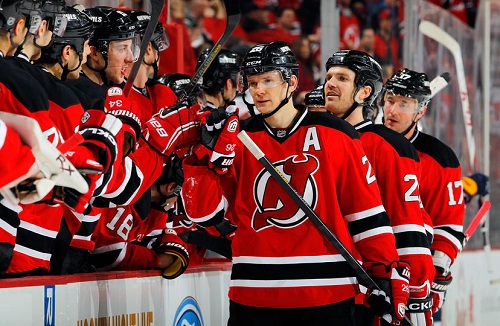 The Devils broke their six-game losing streak on Thursday with a 3-2 shootout win over the Buffalo Sabres, as Patrik Elias scored a goal late in the third period to send the game to overtime then tallied the winning goal in the shootout. After having the best shootout record in the NHL last season, Elias, David Clarkson, and Ilya Kovalchuk helped the Devils tally their first shootout victory this season.
In the last few games, we saw Elias, who is normally cool as a cucumber, getting increasingly riled up: he got in other players' faces; didn't skate away from post-whistle pushing and shoving; his sense of urgency got more and more fervent. In Tuesday's 5-2 loss to the visiting Tampa Bay Lightning, Adam Henrique scored the Devils first goal in the third period followed by Elias scoring a goal with less than five minutes left to pull within one of the Lightning. This game was a case of too little, too late, but just the hint of urgency – or, desperation, if you will – fueled Elias's and the Devils' fire, leading up to the eventual win over the Sabres.
I feel like Crash Davis in Bull Durham, already sitting in the dugout as Ebby Calvin "Nuke" LaLoosh – who finally ascribed to the whole wearing-a-garter-will-help-me-focus mantra that Annie Savoy had been preaching to him, especially as he entered the game with a 1-6 record – sits down after pitching a big one-two-three inning.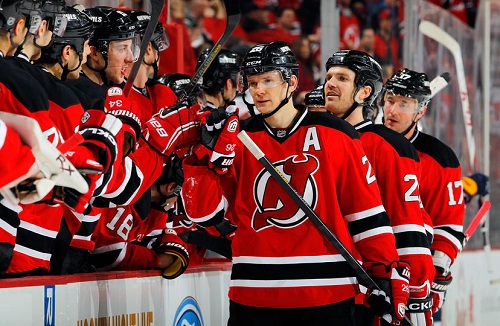 Nuke: "I was great, eh?"
Crash: "Your fastball was up, your curveball was hanging!… In The Show, they would've ripped you."
Nuke: "Can't you let me enjoy the moment?"
Crash: "The moment's over."
While it's a huge relief to notch a W after such a losing streak, there's still plenty more work for the Devils to do to recoup their earlier success.
The Devils haven't been playing well together over the past 12 days. Their shifts seemed disjointed – in part due to how many new guys were on the ice for any given game – but the Devils did have their opportunities on offense. They hit posts, they missed the net on point-blank shots, their passes sailed across the goal mouth with no one present to finish. I'm a big proponent of giving credit where credit is due, so I mean no disrepect to the Washington Capitals, Winnipeg Jets, Sabres, Lightning, and Toronto Maple Leafs, but the Devils seemed to be beating themselves by not making the most of the chances they had to win some of the closer games during their losing streak. Bounces went against Johan Hedberg – who, incidentally, is a solid backup to Martin Brodeur but also is a backup goalie for a reason – and the Devils didn't seem to be able to pick themselves up after going down by a goal (or more).
The Devils are at a fork in the road, now, and I'd like to believe that they'll take the path to getting back on top of the Atlantic Division. I believe that hockey truly is a team sport, so despite the fact that a slew of people have tried to convince me that the Devils have had a winning record when Mark Fayne is on the ice therefore Fayne is good for the Devils (correlation does not equal causation, people!), I do believe that there are certain players who are, in fact, good for the Devils. Assuming that there is a method to Head Coach Pete DeBoer's rotating lineups madness, maybe the healthy-scratching-Anton-Volchenkov experiement needs to come to an end. No causation, but I prefer Volchenkov to Fayne. He provides a more physical presence in front of the net and the Devils have been lacking that since Scott Stevens and Ken Daneyko retired.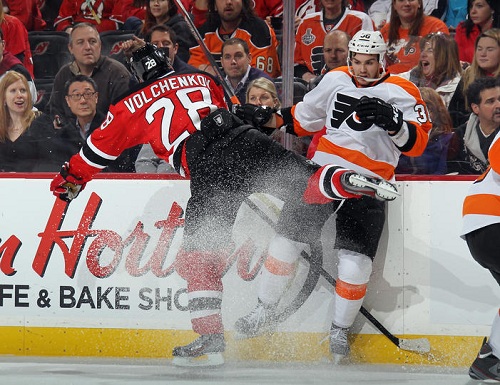 Winning helps a lot of things, but it's not a cure-all for all the aspects the Devils need to work on. They have the ability to pick themselves up, and heading into this stretch of five games in the next seven games, including a back-to-back against the Philadelphia Flyers on Friday and the best-in-the-Eastern-Conference Montreal Canadiens, it's going to be more important than ever to ride this momentum and get back on track this season.
Happy: Did I mention that the Devils finally won a game? Right!
Crappy: Captain Bryce Salvador did not travel with the team to face the Carolina Hurricanes tonight, as he has been sidelined with an upper body injury. He's more of a "lead by action" type of captain so I don't think his absence bodes well for New Jersey.