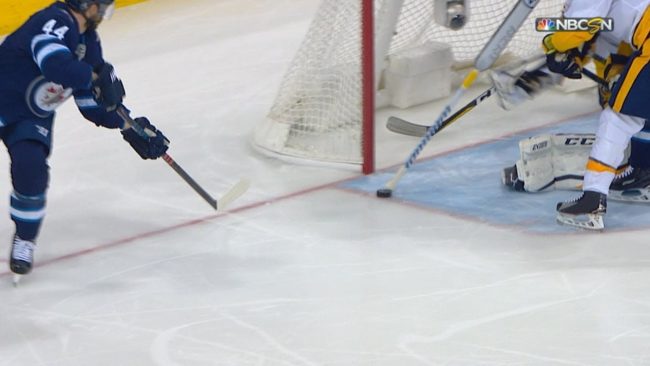 Just two nights ago Nashville watched its 2018 President's Trophy team surrender a 3-0 lead to the likes of the Winnipeg Jets, 7-4, in Game 3 at the Bell MTS Place in downtown Winnipeg. The Predators also witnessed their (normally) cool and collected goaltender in Pekka Rinne show signs of frustrations in the surprising loss.
Entering Game 4, and trailing 2-1 in the series, one of the biggest headlines was if Rinne could bounce back and get his Predators back on track to being the hunters — instead of the hunted.
Not only did Rinne quiet the critics with his 32 saves en route to a 2-1 Nashville victory in Game 4, but the Finnish native may have had the best save of the 2018 Stanley Cup Playoffs during the contest's first period.
After making a sliding save on an offensive rush from Winnipeg, Rinne lunged to his right while losing his stick and making a save on a lose rebound in the process.
Rinne with this save… #NSHvsWPG

— 𝙺𝚢𝚕𝚎 𝙼𝚌𝙺𝚎𝚗𝚗𝚊 (@KMcKenna_NHL) May 4, 2018
Clearly the loose rebound would have acted as Jets defenseman Josh Morrissey's first career Stanley Cup Playoff goal, but it was the knob of Rinne's upside and falling stick that robbed the youngster of playoff glory in front of Winnipeg's Whiteout…all 15,321 one them.
Though, the save proved to be more significant once the final buzzer sounded. With the Predators leading 2-0 with less than :50 remaining in regulation, Winnipeg's Patrik Laine scored his first goal of the series off of an offensive zone draw, to get the Jets back within one (49.6).
.@PatrikLaine29 makes it a one-goal game. pic.twitter.com/1U3G4jVcdk

— NHL GIFs (@NHLGIFs) May 4, 2018
The Jets had another close chance with 1.5-seconds in the offensive zone, but the Preds held on and delivered the Jets first loss on home ice this postseason.
The series has had a momentum swing, and if the Predators continue to advance in the playoffs this save may just go down in the history books.
Tweet your NHL related questions to @KMcKenna_tLT5 to have them answered & be sure to use the hashtag #McKennasDigest
Kyle McKenna covers the NHL for Hooked On Hockey Magazine. He can be reached on Twitter (@KMcKenna_tLT5)