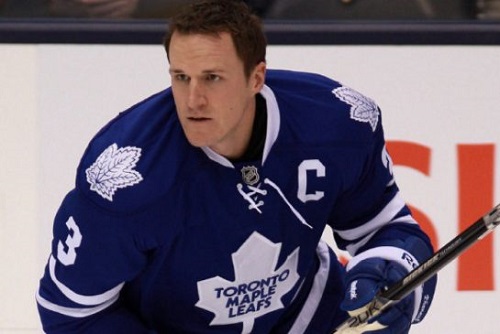 Toronto captain Dion Phaneuf will be out for the Leafs' next two games due to a suspension.
Late in the game against Boston this past Sunday, Phaneuf delivered a questionable hit to the numbers of Kevan Miller, knocking him face first into the boards. Phaneuf did not receive a penalty, but immediately there was speculation that the hit would be suspension-worthy.
"I obviously have to accept it and move forward," Phaneuf said. "There's not much more else I want to say about it."
"Thought he did kind of go off-balance," Leafs coach Randy Carlyle said, of Miller, on Tuesday. "But again, the criteria that the league takes into account, obviously they felt it was warranted. And we have a different opinion of it."
In the end though, it's the league's opinion that matters, so Phaneuf will sit for two games.
With Phaneuf out there is a big hole in the Leafs' defense to fill. Early reports suggest that the pairings could look like this for the next game:
Carl Gunnarsson – Cody Franson
Jake Gardiner – John-Michael Liles
Mark Fraser – Paul Ranger
Morgan Rielly
With Rielly being the odd-man out, it is clear that the coach prefers the big bodies of Fraser and Ranger on the back-end.
There will be an interesting test of Franson's abilities as a defenseman. If he can manage to play well in Phaneuf's role, he might get more chances on the ice, but it can go the other way as well.
The Leafs will also have to work hard to stay out the box and take some pressure off their ailing penalty kill.
Either way, the Leafs will have to play much harder to win their games against the LA Kings and St. Louis Blues.