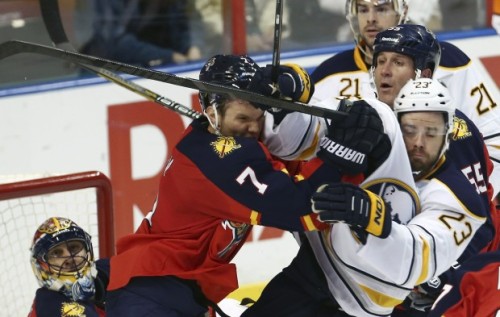 EVERYBODY HERE GETS A CONTRACT.
The Florida Panthers have taken care of their own this offseason, and today's re-signing of Russian defenseman Dmitry Kulikov is no exception; in the wake of a week-long flurry of RFA signings, Kulikov cashed in, inking a three-year, $13 million deal that will keep the blueliner in Sunrise through the remainder of his RFA years, expiring during the 2016-17 campaign. Following a career year in terms of goals scored (eight) and games played (81), the Lipetsk-born rearguard was the recipient of the largest RFA contract doled out thus far by General Manager Dale Tallon, with the expectation that Kulikov will finally blossom into a leader and reach the ceiling of his potential.
Selected 14th overall in the 2009 NHL Entry Draft, the 18-year old Kulikov immediately made the jump from Major Junior to Pro. Though often denigrated for mental miscues and mishaps on the puck, the former Drummondville Voltigeurs standout has performed well enough to earn 313 caps, surpassing the 300-game mile-marker Tallon identified as the timetable for a player to develop into a legit NHL d-man. Those Cats' fans that haven't given up on the 6'1″, 204-pound skater have their fingers crossed, optimistic that this is the year Kulikov reaches the final level in his development; with 99 career points off of 24 goals, "Kuli" must find a sliver of the magic that propelled him to a 1.09 point-per-game pace in his first season of Junior hockey if he hopes to appease the expectations of his bosses and supporters.
Also, he's actually ours. Like, we didn't get him from Chicago. That's pretty chill.
Note to self; abandoned stadiums on Biscayne Bay are a veritable breeding ground for mosquitoes.