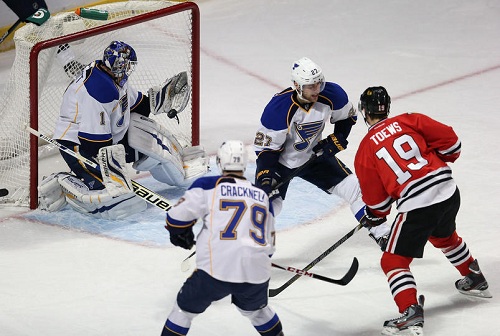 Excitement is rushing through the "Lou" today, as the Blues are coming off a big win over the Chicago Blackhawks. But the good vibes have narrow sights, as the Blues are still a long way from where they want to be.
Despite St. Louis' shootout win against Chicago, the Blues have only 38 points on the season so far, which ties them for last place in the Central Division with the Nashville Predators. Currently, the Blues are almost 20 points behind Division leading Blackhawks. This makes the recent win so impressive and energetic, but it's still a hard fact to take.
"The addition of [Jay] Boumeester and [Jordan] Leopold really helped us," said Blues Coach Ken Hitchcock. "[They] gave us the composure that we needed."
Both Boumeester and Leopold are new additions to St. Louis. Leopold left the Buffalo Sabres to wear the Blue Note, and in his St. Louis debut recorded 16:43 minutes of ice time, with two shots, two hits, a blocked shot and a plus one rating.
The Sabres picked up a second round pick in the upcoming draft and a conditional fifth round pick in exchange for Leopold. The 32 year-old defenseman dressed in 24 games with Buffalo and recorded eight points, two goals and six assists to go along with his 14 penalty minutes.
So far he is fitting in nicely.
Boumeester was brought to St. Louis from the Calgary Flames in a deal that apparently took close to ten months to complete. Considered one of the NHL's top ironmen, Boumeester has been sought after by the Blues as the left-hander will share the blueline with Alex Pietrangelo. In exchange, the Blues had to give up defenseman Mark Cundari, the rights to goaltender Reto Berra, and a first round pick.
The defenseman is needed, especially now that St. Louis' is having some goaltending troubles. Jaroslav Halak suffered what was originally reported as a lower-body injury in St. Louis' game against the Minnesota Wild. What is now being detailed as a groin-injury will keep the netminder out for three weeks; what amounts to the rest of the regular season. Halak has played decently well so far this season, even recording a franchise record for shutouts.
The pipes now belong to Brian Elliott and Jake Allen. Both men have spent some time down with the Peoria Rivermen, St. Louis' American Hockey League affiliate, Elliott to get in some extra conditioning work and Allen as a standby if anything were to happen to Elliott or Halak. Something did, so now Allen will have some NHL responsibilities on his shoulders again.
Hitchcock has said that Allen has become a "prime-time player" for the Blues, and when your coach backs the goaltender that strongly, he's probably right.
Which means that Blues fans shouldn't worry too much. Allen has proven that he can handle the NHL intensity and Elliott should take this time to prove himself apart from Halak. If the Blues do make the post-season, an uncertainty as of now, Halak should be ready in time to come back, and the Blues will have to make another decision about who stays and who goes. But right now, Allen and Elliott will stop shots for the Blues.
Also moving up and down, is T.J. Oshie. Oshie went on injured reserve for a short time, was able to make it back to the starting roster and net a goal in his return, only to wind up back on I.R. All in the span of a few weeks.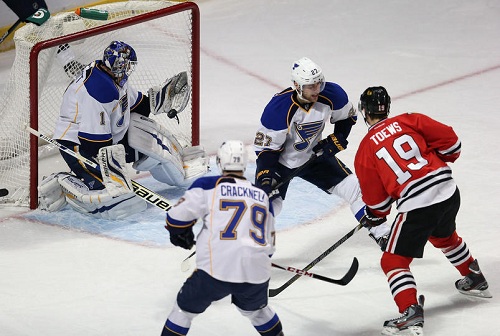 Oshie is a goal-scorer that the Blues can't afford to rush back before he's 100 percent. Again, the Blues will have to gamble a bit. If Oshie comes back before he is ready he could risk not being able to play in the post-season. If Oshie stays out for a long period of time during the regular season in hopes of being 100 percent for the playoffs, the responsibility rests on his teammates shoulders to get the Blues to the playoffs. Right now, Oshie needs to be healthy and wait to see how the next few games pan out.
With Oshie out, Adam Cracknell is back up from Peoria to take his place. However, Peoria did gain Dmitrij Jaskin from the Quebec Major Junior League. The youngster just signed a three-year, entry level contract with the club.
Also staying with the Blues, Chris Porter just signed a two-year deal, while Matt D'Agostini was dealt to the New Jersey Devils in exchange for a conditional 4th or 5th round pick. Wade Redden is also gone from St. Louis, as he was sent to the Boston Bruins in exchange for a 7th round draft pick, which becomes a 6th round pick if Redden plays at least one playoff game with Boston.
The Blues roster has been shaken up a bit and they have a long road in front of them if they are looking to make the post-season. Yes, it's possible. But the goaltending will have to be stellar and the goal-scoring will have to produce nightly. Pushing from the bottom of the division to a spot high enough to make the playoffs is tricky, but the Blues are a team that can make it happen.