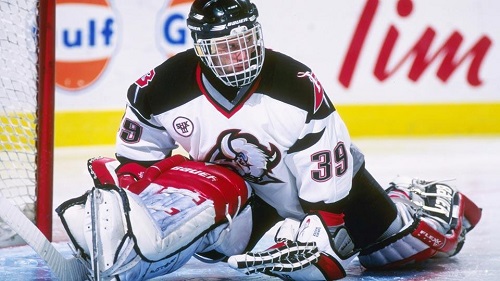 Dominik Hasek played an unorthordox style of hockey during his career.  That style however allowed him to be one of the most decorated goaltenders in league history.  Along with Hasek, Mike Modano, Peter Forsberg, Rob Blake, referee Bill McCreary and the late coach pat Burns will be inducted as well.
Hasek's career was quite interesting.  He was drafted in the 1983 NHL Draft by the Chicago Blackhawks and did not make his NHL debut until the 1990-1991 season. While in Chicago, he was the backup to another great goaltender, Eddie "the Eagle" Belfour.  Hasek would be traded to the Buffalo Sabres for goaltender Stephane Beauregard and a future pick (later became Eric Daze).
After he became a starting goalie on a full-time basis, Hasek went on to have an incredible career.  He won six Vezina Trophies in an eight year stretch as the league's best goaltender.  He won back to back Hart Trophies as Most Valuable Player.  In 1998, he led his home country, the Czech Republic to a Gold Medal in the Nagano Olympics.  He made six All-Star Games and received the Ted Lindsay Award as the league's most valuable player as voted by the players.  In essence, he DOMINATED the position and the game.
Unfortunately for the fans of Buffalo, they would never see a Stanley Cup.  The closest Hasek had the Sabres to the cup was during the 1998-1999 season against the Dallas Stars.  Brett Hull's controversial goal in game 6 gave the Stars the victory.  Hasek would be traded to the Detroit Red Wings a few years later where he would win the first of his two Stanley Cups.
Where Dominik Hasek Ranks:
His .922 save percentage is the best ever!
Tied for 6th with 81 shutouts.
2.20 G.A.A is good for 8th all-time and is better than Martin Brodeur and Patrick Roy.
Hasek's 389 wins ranks him 11th all-time.
When Hasek played for the Sabres, he often carried the team on his back.  He made several key saves during games which led his team to victory.  Teams knew that if Buffalo took the 1-0 lead against them, it would be game over.  Hasek may have been the best player in the entire league from 1993-1999.  No one has ever dominated goaltending as Hasek did.   So, congratulations Dominator! I look forward to your induction into the Hall of Fame.
Love Reading About Hockey?

Subscribe to keep up-to-date with the latest and most interesting hockey news!
| | |
| --- | --- |
| | We hate spam just as much as you |