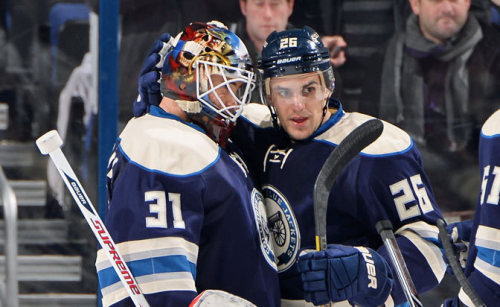 Sometimes adversity can be the key to unlocking the championship code. A little adversity can be the thing that unites a team, brings it together and galvanizes it on the way to bigger and better later on in the year.
Unfortunately, adversity can also work in the other direction. It can be the roadblock that a team is never able to solve, the crushing blow to a puncher's chance at a title.
For the Blue Jackets, fighting that adversity has started to look more like the latter than the former.
The Blue Jackets are just 4-9-1 through their first 14 games, one single solitary point better than the miserably awful Buffalo Sabres. Since starting the year 3-2-0, the team has stalled out to the tune of 1-7-1 over their last nine games and the injuries seem to just keep on coming, regardless of who might be ready to rejoin the lineup.
Get Matt Calvert and Boone Jenner back? Lose Sergei Bobrovsky and Ryan Murray. It's hard for the team to find a balance when the lineup is in constant disarray. Ryan Johansen and Nick Foligno have been outstanding so far, but there is only so much two players can do. They can't possibly score every goal and can only do so much playing a third of every game.
Still, there's no reason to give up just yet. After all, teams suffer slow starts. Last year, the New York Rangers were 3-7-0 out of the gate and had gotten bombed to the tune of 20 goals in a three game stretch. Things wound up working out alright for them.
Then there's the Sabres, who started 1-8-1. They, well yeah, they didn't do so hot but the Jackets are probably a lot closer to the Rangers than they are the Sabres, so a historically bad performance across a whole season would be shocking from the Blue Jackets.
More importantly than anything, the team seems to be missing their trademark tenacity that carried them to the playoffs last year. They tend to play like a Western Conference team trapped in the East (something they sort of are after spending the entirety of their existence in the west until last year), bringing a physicality few in the east can match.
Maybe the team will find the jolt it needs to get things going in the other direction and hold the fort until the reserves can arrive. Then again, maybe this is a climb the Blue Jackets can't make.
It's early November, but it just might be make or break time in Columbus already.
Follow me on Twitter: @2PSBlog
Love Reading About Hockey?

Subscribe to keep up-to-date with the latest and most interesting hockey news!
| | |
| --- | --- |
| | We hate spam just as much as you |