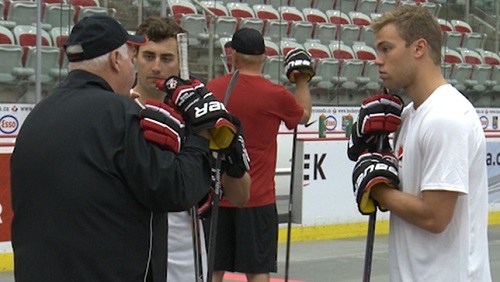 Two Edmonton Oilers, Taylor Hall and Jordan Eberle, were both invited to Team Canada camp and given the opportunity to compete for spots representing Canada in the winter Olympics. The two young forwards, who are generally on the same line and work very well together, are now competing against both each other and 45 other Canadian talents.
Both players were extremely excited upon hearing the news, as they should be, and their excitement continued once they arrived in camp. "It'd be amazing [to get a spot on the team]," said Hall, "It'd be, probably, the best experience in my life. Just seeing all of the videos that they showed yesterday to us, it really got me fired up and just the possibility of being on this team makes me very excited."
Eberle expressed a similar thought, saying that "It's just an honour to be here itself. You look around at some of the names and guys who you play against and, obviously, compete against. Just to be out here and bonding with them and being a part of this organization and Team Canada, it's pretty special."
Oilers fans adore Hall and Eberle – they're quick, they're full of energy, and they make things happen on the ice. As much as it pains me to say, however, it's somewhat of a long shot for them. They're still very young and at the beginning of their careers, however, so it's not as if they won't have more opportunities in the future.
The 21 year old Hall addressed his age, acknowledging that "I'm the youngest guy there and that's pretty cool. I've never really thought of what other players think of me, but this is an honour, for sure. This is a great first step. The next step is being on the team and that'll be super hard."
Hall is competing for a spot on the left against players such as Chris Kunitz, Rick Nash, Andrew Ladd, Milan Lucic, and Patrick Sharp.
Eberle also spoke of the difficulty of being chosen for a spot on the team, interviewing that "I just have to make it hard for them to keep me off the team, [to] have a great start. I'm sure Taylor's thinking the same thing. I'm sure there are guys who are shoo-ins to make the team, but being named to the orientation camp means you're in the mix, on their radar."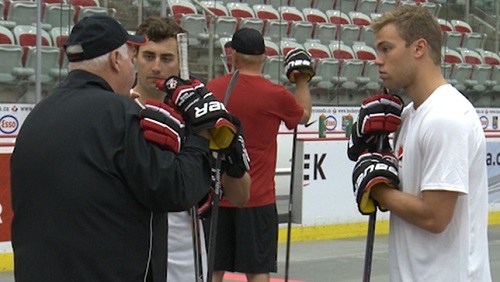 While they are certainly worthy of a spot at camp, they themselves recognize the skill level they're surrounded by. Eberle spoke of the talents on the team, saying that "you just want to be around them and just take up as much as you can."
Besides their youth, another significant factor is their positions. Players aren't sure whether the coaches will decide to keep them in their regular positions or merely pick the most skilled players and move them around the ice as they see fit. Both decisions have advantages and disadvantages.
Hall examined this strategy in an interview, admitting that "I've got a feeling they'll just take the best players and I know it's a lot easier for a centre to shift over to the wing." That type of decision "does hamper the chances of us a little bit," Hall continued, "but they might also want guys playing their natural position."
It would be an honor for Hall and Eberle to get a spot on Team Canada, and would certainly be fantastic to have one or two Oilers to cheer on in Olympic games. However, being invited to such a difficult, competitive and prestigious camp can only help their game, regardless of whether they make the team. They'll continue to hone their skills as players, something they can carry on into regular games this upcoming season.